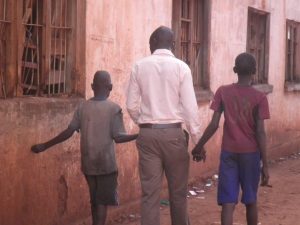 Do you believe that no young person should have to live and work on the streets?
Do you believe that children who have lived on the streets deserve the chance to fulfil their potential?
S.A.L.V.E. International is looking to recruit a Ugandan Psychiatric Nurse – could it be you?
Drug Rehabilitation Psychiatric Nurse:
This is a role for someone with the heart and passion to work with and counsel children who were living on the streets in Uganda and who works well with others in a team. They will oversee medical care plans for children, be a person who likes to do their work to a high quality, has good time keeping and can keep good records in files and on the computers. They should also have a special interest and knowledge in addiction or be interested to develop in this area.
Please read the full job role description by clicking here: Psychiatric Nurse Drug Rehabilitation Job Description (S.A.L.V.E.)
Call: 07775 38083 for more info if needed after reading the job description.
Please apply: by submitting your covering letter explaining how you fit the job role description and your CV to info@salveinternational.org.  Applications given in printed copy will not be considered.
The deadline for applications is Sunday 26th May 2019.

Interviews will take place on Thursday 30th May for shortlisted candidates.
Please only apply if you are a Ugandan national over 21 years old with psychiatric nursing qualifications, excellent computer knowledge and skills, as well as a passion for the work we do. We are especially interested in applications from male candidates for this role.
More about the organisation:
S.A.L.V.E. International stands for Support and Love Via Education International.
S.A.L.V.E. exists to give love and opportunities via education to children and the families of children living on the streets of Jinja, Uganda. We aim to see children leave the streets and return to a stable family home and education to help them to become happy, self-sustaining, responsible adults.
We achieve this through; drug rehabilitation, street outreach work and home resettlement, counselling and rehabilitation, educational support, community education and empowerment, fundraising and awareness raising. We are based in Jinja District.