As salve we believe in opening out hands and hearts to help see a change in the lives of street connected children and their families. Poverty is one of the most common causes of children ending up on the streets so we started out family empowerment business programme. Through this programme, we aim at causing a change in the lives of our target group within our area of operation. With their hand joined to ours we have seen parents that were feeling helpless raise up and be determined and hopeful that their lives can add value to communities and families where they are staying.
Meet Grace
Grace is a widow with twelve dependants with whom we work with in our family empowerment business programme. S.A.L.V.E. started working with this family after resettling Grace's nephew who had run to the streets of Jinja as the situation at home became unbearable due to the steadily increasing poverty. His parents had died whilst he was young, leaving him with the auntie as the only relative. Grace saw S.A.L.V.E. as a bridge that had been constructed for her and her family to cross over a scary river.
Grace lost her husband in 2006. At that time, he was the only bread winner. H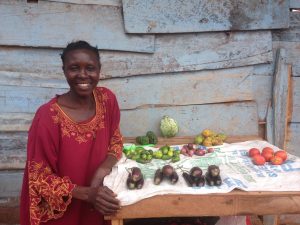 e left Grace with twelve dependants of which six were their biological children and six were orphans from close relatives. Her youngest was only two years old and the eldest was below eighteen years of age so life become a curse to her. She started to ask herself why she was still living? She should have died instead of the husband. Since they were staying in one of the suburbs of Jinja some of the children ran onto the streets of Jinja. They were living on the mercies of neighbour which was not reliable and as the situation deteriorated, she started washing clothes for people in town in order to get food for her family. Later she started a small business of selling fish but this did not earn her much and she could still not afford school fees and other basic needs for her children. Life was tough.
With our family empowerment business program Grace saw that we had offered a hand across the bridge that she was still scared to cross. We assessed her situation and felt she was the perfect candidate for the programme. We started a vegetable business for her and also boosted her fish business with a boat, which she hires out to people. This brings in a daily income for grace.
Grace is now able to put food on the table for her children every day, attend to emergencies and above all she was able to take back two of her children to school, both of whom are in secondary school, where fees are high.
She is so grateful for the support she received and exclaimed "I've been doing so well from the business I have even started to gain weight".