Hi everyone, I am Leah a Community Educator volunteer working with S.A.L.V.E. International in Uganda. It has been a great opportunity working with the community here in Uganda because through this, I have learnt how to relate with different kinds of people, greater courage to live together, work together, eat together and improve on the lives of those we care for. I believe all of this starts with love!
You can do anything when love is at the centre of it all. Love is patient, kind, does not envy, boast, is not proud, does not dishonor others, is not self seeking, is not easily angered, and keeps no record of wrongs. Love does not delight in lies but rejoices with the truth, it always protects, trusts, hopes and perseveres.
Family Empowerment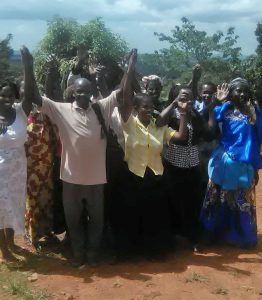 This is one of the family empowerment groups that was trained and is to be supported to start up small businesses to be able for them to support their families though the main focus is on the formerly street-connected children such that they can access the basic needs at home. This takes love to even share what you have with others therefore; we appreciate everybody who has shared what they have with S.A.L.V.E.
It was so amazing tracing families in different parts of Uganda by directions on phone and even by use of landmarks to those who have no phones. The aim is to connect with them directly with a family assessment to find out whether they can qualify to be supported business wise. This takes one to be courageous, committed and loving. Why are these families traced for business empowerment? This is because of the strong relationship that S.A.L.V.E. has with the children and understanding the challenges that these street-connected children face both at home and when they are on streets.
The first sight and feeling someone has determines the percentage of trust one will have in you. S.A.L.V.E. means "Support and Love via Education". As a community educator, this principle works best because you cannot deal, support and share perfectly with someone you do not have love and care for.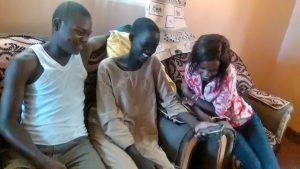 When I explained in love to them (parents) about the potential program of supporting them to startup small businesses with the aim of being able to support their families with basic needs. They welcome it and appreciate the way S.A.L.V.E. loves their children and is also considering them as adults to be able to better care for their children in the future. It takes courage for families to trust and consider your idea or concern and give time and attention to what you are sharing, especially if it might be the very first time of seeing you. In the past they may have met other S.A.L.V.E. staff or volunteers.
Determination to develop has an element of love. When the appointed time for training reached, all the 10 members turned up and this showed the trust they had put in me. I was so encouraged and inspired for the positive response and also my relationship with them developed more and more. I can't wait to see them start their new businesses and flourish.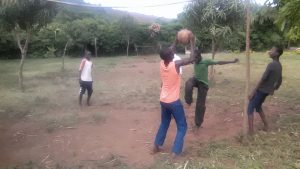 As a community department, we appreciate S.A.L.V.E. and all our supporters for giving us the opportunity to work with the parents and guardians of our children. The bond and love between a parent and child will grow when the paretns are able to get the basic needs for their children.
A loving family eats together, drinks together, plays together, shares and develops one another. I send my love you all our readers!