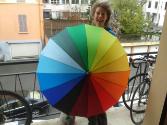 Hello, my name is Amy. Inspired by Lis Silver's "no healthcare" challenge, I've decided to take on an Inequality Challenge for a week. When choosing my challenge I thought of the many water fountains in my town. There are many places in the world where people struggle to have access to a clean water source, and women in particular have to walk long distances to fetch the water.
My challenge is: I will collect my own water for drinking, cooking and washing for 1 week. Water will be collected from a public water source 1km walk from my house. I'll start on Thursday 20 April. For the sake of my co-workers, I will not count water used in toilet flushing.
I've chosen to do this challenge to support S.A.L.V.E International. This is a charity I've supported in various ways for over 5 years and is very close to my heart. Their goal is that no child should have to live on the streets in Uganda. They work towards this on many levels, engaging with children living on the street and with families to seek solutions. They've won several awards but more importantly have changed the lives of the children they work with. Any donations to this great cause are very much appreciated.Thanks.
Day 0 :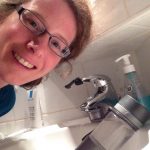 Preparations….
Tonight I made some preparations ready for my water challenge starting tomorrow. I've collected my first load of water, ready for waking up tomorrow. I've also tied cloth to all the taps in my house to remind me not to use them! And finally, a last minute dishwasher run!
Day 1 :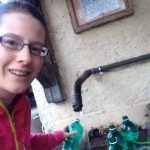 Ups and Downs The day started well and I was feeling confident. I had a wash using a bucket and a good supply of water.
But as the day wore on and my pile of washing up accumulated the day began to feel harder. I realised the hard part is fitting the water collection and management around work and daily life.
Day 2: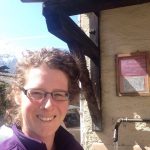 Getting Lazy Today I've found that wanting to reduce water usage has meant I'm considering shortcuts. Do I really need a clean plate or could I get away with using the one from last night? How thoroughly should I wash my hands after that loo trip?
Fear not, I made the good and hygienic decisions! But this did make me think about the link between access to water and good health.
Day 3:
Sweaty. I had a great day in the mountains with friends, returning home tired, sweaty and nearly out of water. Last bit of water used as a motivational cup of tea to get me out the door collecting more for a shower.
Day 4:
Less Time. Today was a lazy Sunday, but part of the morning was spent catching up on a water shortage chez Amy. Washing up done and a refill completed, I could carry on with my day, but really noticed that I had less time because of water needs.
Day 5:
Capacity. I found a couple more water bottles today, so decided to carry back a bigger load of water. Alas, too much! Tomorrow I'll be going back to 7 litres. And also it was raining!