In Uganda mostly we do our education in English since we have more than 30 different languages in use in the country, English unifies us all at school so that we can communicate with anyone.
After a long stay on the street, some children completely forget to use English language even thought they were once at school. However, when these children get chance to be helped by street connected children organisations like S.A.L.V.E. International, they find that they come close to people whom they feel they should communicate and interact with, but sometimes these people may not be knowing their local language (since a child on the streets could be coming from any part of Uganda or even Keyna/ South Sudan etc.).
Meet Jack
Here is Jack* who is aged 14 years, came to S.A.L.V.E. after staying on the street while taking drugs. He had stayed on streets for over five years, after running away from home due to the mistreatment by his stepmother. He had stopped in primary four and he desires much to go back to school and strongly believes that at one point he will be a medical doctor or some other caring profession.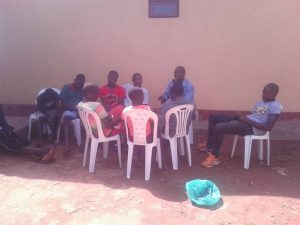 He got challenged when he met some Uncles and Aunts in S.A.L.V.E. but couldn't make any sentence in English as he had forgotten his learning from school since he has taken some time on the streets. Yet he sees a number of people freely using English language and it is part of their life.
One time visitors came to the Drug Rehabilitation Centre where he is staying. They greeted him and they were asking him something, but he never understood what they were saying. This made him too determined feeling he should have said something small at least.
From that day he said to himself that by all means, he has to learn English, especially if he wants to go back to school after he completes his drug rehab.He enjoys his lessons at S.A.L.V.E. but felt he wanted to do more to catch up with his studies faster!
What did Jack do?
He then got too close to one of the home assistants who didn't know Jack's local languages, but they only had English in common to use.
Jack is ever around that home assistant after doing all the other activities he is to do, with the aim of gaining more English. It was interesting for him since whenever he was sent to help the home assistant, he could bring the item he believed the home assistant meant and thus he could learn the meaning of the English words.
He could first study the environment and guess what the home assistant might be sending him for, but since he could be doubting himself he used to bring at least three items at once so that the home assistant picks what he was exactly meaning and thus Jack learns a new word.
The home assistant used to encourage him to keep practising and trying hard.  Jack can now construct some English sentences. He is continuing with his strategies for learning English, as I speak now he is prepared to join school soon and can sustain a conversation with any one in simple English.
*We change the names of the children in public as part of our child protection policy.