Ben*, a 16-year old boy was staying in Nakibizi before he came to Jinja town. I came to know him through the street walks I used to make and through his friend by the name of  Charles.
He spent 7 month in Nakibizi then he had to proceed to Jinja town to stay on the streets there full time. When they reached the town, he and his friend became separated, so Ben had to continue with his own life in Jinja town.
Coping strategies
Life on the streets is tough and can be very dangerous. Ben started sniffing petrol, which is also called "mafuta –
nyositi" which means petrol for aeroplanes. He made new friends who lived on the streets of Jinja, though he missed his buddy Charles a lot. He realised that is very hard to know if you can trust someone or not on the streets.
Together with his new friends, they resorted to collecting scrap metal around town. He says that by then a kilo of scrap was sold at 300 Ugandan shillings (6p) and the money earned was used to buy clothes, and petrol, which he was sniffing regularly by then i.e. more than once per day.
The Mafuta used to help him to forget his difficult past and made him feel strong against the dangers of the streets. He used the drugs a coping strategy and relied on them to help him to get through each day.
He also started engaging in activities of theft, whereby they were stealing people's clothes, charcoal and also empty jerricans. He would sell these items and use the money to buy more drugs.
During that time on the streets of Jinja, he was offered chances to join with an organisation and they could take him for sports activities like; football, and individual counselling. Sadly, by this point he was so used to his life on the streets that he couldn't see any other life apart from street life for himself and he turned down these opportunities. He felt he was addicted to his life of the street.
However, as time went on and  he saw his friends getting chances and opportunities to leave the streets, that he was unable to get, his attitude started to change. He started to cut down the amount of mafuta he was sniffing and taking better care of himself. He began attending our drop in centre and eventually entered our residential care, where he is currently receiving more counselling before being resettled home.
Hope for the future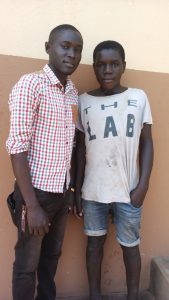 Ben says he is so happy to be with his good friends of S.A.L.V.E. International that guide him and counsel him and saw potential in him. He is now committed to living a drug-free life away from the streets and taking back control of his life.  He has even started to dream about a brighter future, and it is his future wish to acquire skills in electronics or mechanical engineering.
He is so happy to be under rehabilitation that is helping him to plan for a positive future. He is also happy to get medical care and gain back his weight that he lost during the time taking the mafuta on the streets of Jinja.
This is why I love my job. It's a chance to really help a child to turn their life around, ending their addiction to street life and growing their love for school life!
*We have changed the names of the children in this public space as part of our child protection policy.