Hi everyone am Bogere Brenda, a social worker working with S.A.L.V.E. International organisation in Uganda.
I have always prided myself on trying to dress smartly and professionally for work.
Working with street-connected children has been my greatest experience because I have gotten to know the truth about street-connected children compared to the myths and stereotypes the public has towards them.
I have learnt more about the challenges the children go through while on the streets. One of those challenges is the challenge of putting on the same clothes from one day, one week and one month to another. This is not because it is their choice to do so, but because they lack other clothes to put on.
Have you ever thought about this challenge? To me it became a concern and I have decided to take A CHALLENGE OF PUTTING ON THE SAME OUT FIT FOR WORK AS I GO TO WORK FOR ONE WEEK DESPITE HOW DIRTY I BECOME.
This will help to sensitise the public about this challenge the children go through, it will make the children happy that I am showing this empathy for them and it is also a way of helping to fundraise for S.A.L.V.E. to afford more clothes for the children on the streets and especially for the children as they are leaving the streets.
Please follow me this one week of learning about how it feels to put on the same clothes throughout the week – despite it being dirty and torn.
I allowed the children to be the ones to choose my outfit for the week, let's see what they choose….
Day 1:
It started as a normal day for everyone at work and also the street-connected children we work with.
However everyone had a big surprise to see me putting on the pair of jeans and the T-shirt for work, because they thought I couldn't do it basing on the principles I had set for my dress code at work.
To them it was fun because I had accepted their challenge to put on these casual clothes, but of course to me I felt uneasy because I had swore never to be casual at work.
However when I asked the children why they chose for me that outfit, they said before they used to fear to interact with me freely because I always looked so serious. But today it felt good because I saw children laugh and joke around me, even those who were always quiet in class. I am happy this challenge is bringing me closer to the children and making them like and trust me more.
Day 2: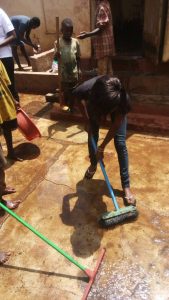 I report for work still in my same casual outfit.
The children set principles that I shouldn't wash those clothes however dirty they become.
My activity with the children today was to do general cleaning with them. For that I was to become dirty as cleaning is dirty work. Anyway it felt good working with the children as they didn't feel it is bad work to clean our centre since I was also involved in the cleaning in my dirty clothes.
Right now the feeling is becoming more horrible to put on the outfit. I am imaging how manage to continue putting on the same clothes if I am starting to smell due to sweat, dirt, and many others…
Day 3: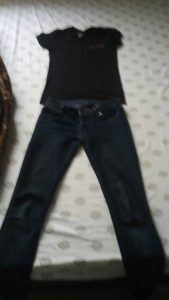 The challenge is still going on and becoming more difficult especially putting on the same outfit without washing the clothes.
To me this implies the street-connected children are going through more hardships. Today I have shared with the children how I feel uncomfortable. For them they shared that they feel the itches and also have lice in the clothes. This is really so sad because it makes them more prone to diseases like ring worm because sometimes they can't shower.
In addition they explained further that because of their dirty clothes they are always segregated in the community and some times denied the opportunities like jobs. This challenge is helping me to feel closer to the children.
Day 4:
This has been the best day of the challenge.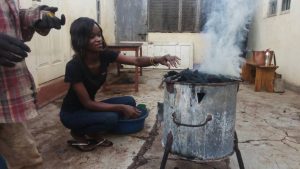 The children came around to check my clothes to see if they were dirty or I had washed them. I survived this because I was dirty like way I left work yesterday and am following their rules they set me. This made them happy that I am not fooling them.
Later they have told me to light for them the charcoal stove because they thought I would be defeated since it is bigger and would make me too dirty. I was to do this without anyone's help. This was so easy to me because I have been doing this at home. This helped me to show them that we need to know all useful activities despite the age and gender for one to survive in life.
I like how this challenge is teaching both me and the children more about each other every day.
Day 5: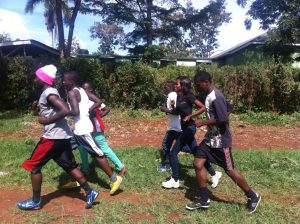 Knowing someone's hobbies and interests is something good. Today children have challenged me if I can run faster than them. This was difficult because am not a sports woman but at least I tried. I was really happy to run with the children and they were encouraging me to continue running, in fact some decided to reduce the pace at which they were running at so they could run with me. This showed me another element of kindness in them.
The children afterward the training shared the benefits they have gotten from the training i.e. they improved on their fitness, they had fun as this reduced on their stress and also were able to sober up from any drugs they had taken. To me this was really nice as I was able to great more connection with the children.
Not to forget, remember my challenge is to put on the same outfit every day for a week like street-connected children. So going for running in that same smelling outfit felt bad to me. Every mornign it has become harder and harder to put the outfit on. However we were made happy to run together as a team and this helped to balance out the difficulties for me.
Conclusion:
I am so honoured that I got a chance to participate in this challenge. This was eye opening to me to find out more about the challenges street-connected children go through, especially putting on the same clothes everyday.
It wasn't easy at all but I had to persist to find out the feeling and show my empathy with the children (which they really appreciated). The day I will not forget in this challenge was when we had jogging with the children and sweated alot but had to put on the clothes again the next day however smelling they were.
Some of the hardships I got are developed bad odour because of the sweat and I used not to wash the outfit,and my body had started itching. I was also tired of the same out fit.
Lessons I learnt from the challenge are not to judge street-connected children, they might look dirty because they don't have other clothes to put on. It is a difficult thing to keep wearing the same outfit everyday. I know if I have what is more than enough at least to share what I have to those who need it more. I also learnt how showing that I care and was willing to try to walk in their shoes with them made the children closer to me. They trust me more now they have seen evidence of my love for them.
Street-connected children are going through a lot of hardships and this is affecting their lives. Please let's join efforts to see that the children have at least more than one cloth to avoid the challenges they have been going through.Every child deserves the dignity of having clean clothes to change into when they bathe and to keep their bodies disease free.
I STAND TO SEE CHANGE – WILL YOU STAND WITH ME?