Counseling is one of the great opportunities in life. It helps all of us to talk about our concerns and express our feelings and emotions to someone who listens and is willing to offer help and guidance to work through our issues. Being a Street Social Worker Volunteer at S.A.L.V.E. International I have realised counselling is the base of building trust with a child. The child needs to feel free to open up to you. When you are knowing the reasons why the child left home and is on the streets you can help them to think about what they want next. It feels so good to you as a consellor to help a child to transform by making him or her develop a mindset that there is "NO STREET IS CALLED HOME."
There are many things that cause the children to come on the streets and these can mainly be found out and also solved through counselling. Many children come on the streets because of several reasons for example family conflicts, child neglect, feeling lonely in a family, domestic violence, child abuse and poverty to mention but a few.
However even when on streets they develop different behaviours such addictions to drugs as a stress management system, also scavenging and stealing to survive and be able to eat. Because children don't feel able to speak out or change the negative things done to them at home they resort to running on the streets. As a counsellor, you can help them to see this doesn't solve the problem instead they are like a rocking chair that keeps rocking in the same place but going nowhere. This implies the problems are just avoided and not solved.
Hope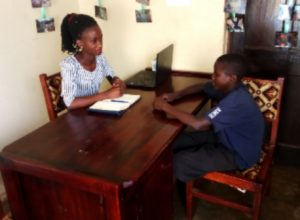 When children attend our Drop In Centre, we do different counselling sessions to help the children. I particularly love group counselling as this provides peer support to children with similar issues and also helps them to see that they are not alone in facing challenges. This gives them hope and they can start to realise the street is not the best place for them to live. Group counselling also promotes social skills, for example, it gives the child the opportunity to re-engage with other people, especially for the children who feel lonely and neglected. We also offer individual
We also offer individual counselling to children as this offers them a lot of time to break through their barriers for those that have trust issues. Other counselings are done such as cognitive behavioural counselling and substance abuse rehabilitation counselling. This helps them to overcome addiction and also teaches them to cope with triggers and cravings they might experience.
After a number of counselling sessions, a child might become willing to be re-integrated with their family. They can go with you as a trusted adult to help to bridge the gap between them and the family members. A home tracing exercise is done to find his or her family members, and we let the child choose which branch of the family they feel most comfortable to go to first. When the family is found family counselling is done especially on parenting styles to help to address the problems which might lead a child to run back on the streets. We do follow up phone calls and family visits to ensure that the child is fully accepted by family and is back to school.
A successful case following counselling
Kenneth* is 13 years old and he had run away from home and started living on the streets because he was not getting enough food at home due to their poor financial status at home and also the big number of people living in their family. They have only one meal a day and the amount of food is little to satisfy them. He felt he was a growing boy and needed more food than this.
While on the streets, he used to look for scrap and also used to steal to get money to buy what he wanted to eat. One time the community members beat him so badly, his back was injured and they wanted to burn him to ashes, but he was lucky to be recused by the police. After several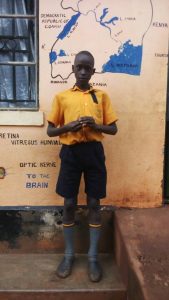 After several counselling sessions with Kenneth, he understood the financial status at home and how the parents are trying hard provide them with food. They weren't giving him that size of food by choice. He came to understand he should not blame them for being poor but should love them as they loved him.
Kenneth accepted to be home traced back to his family and the parents were so happy and accepted him back. Further follow ups were made by the S.A.L.V.E. team on phone and in person to ensure that he fully settles and accepts his family the way they are and even tries to help them with the entrepreneurial skills he learnt on the streets. We will also look at how we can support the family as S.A.L.V.E. to better sustain themselves in the future through our Business Empowerment Programme.
On my last follow up visit I was too happy to find him proud in his school uniform back in school. He also tries to counsel his friends now when they have problems that they should not run away from the problem but need to be resilient and face the challenge.
*Not his real name in accordance with our child protection policy.