Hello, my name is Euan and I'm one of the new board members for S.A.L.V.E. in the UK. I'm taking on the £5 for 5 days food and drink challenge to help to raise funds for S.A.L.V.E. International – so that more children who are living on the streets can get a good meal and an opportunity for a brighter future.
Why am I doing this challenge?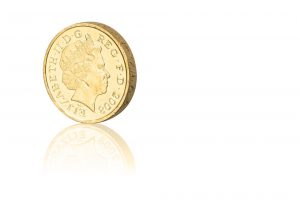 In thinking about taking on an inequality challenge I immediately knew that trying to live on £1 per day for five days would be tough going. It's not that I spend a lot of money on food during the average week – I actually try and keep expenditure down as much as possible with breakfast and lunch at work – using leftovers from the night before or having relatively inexpensive meals. However, I don't think I've ever spent less than a tenner on my food for the week, never mind £5 or less! I'm also a terrible grazer at work – there always seems to be treats and cakes going round the office – either it's someone's birthday, or someone else has been on holiday and they bring back something nice to share with everyone. And even if that's not the case I'll probably be in a meeting with biscuits sitting there on the table crying out to be eaten!
I should point out that I have a terrible sweet tooth and have not been self-disciplined of late. I find it difficult not to snack between meals – particularly at work. So, not only do I have to try and find enough food for £5 to keep me going for breakfast, lunch and dinner for 5 days – I also need to not graze during the day!
I'm up for the challenge though – I've bought a BIG bag of pasta and a BIG jar of pasta sauce (reduced!) for £1.95 to cover evenings meals and hopefully some lunches too. Beyond that I'm sticking to porridge for breakfast (possibly with milk, maybe with water if I can't afford the milk) and I think I'm going to buy a cheap loaf of bread. I'm going to review my options when I see how much porridge I need at work tomorrow morning.
The biggest issue for me is, I think, the lack of variety. Sometimes I will eat very bog standard meals for a week – but at least I always have a choice. I think this will probably get to me over the week – I'm more concerned about frustration with the lack of choice as the week goes on rather than the amount of food. This is why I wanted to try this as my inequality challenge – this lack of money and food, and absence of choice, is something millions of people have to deal with every day and, fortunately, I don't have to. Let's see how I get on…
Day 1:
I started off day 1 by tactically delaying breakfast until about 11am. I had a meeting 9-10 and the went straight into answering emails to keep me busy. I was pretty hungry by 11am though! Especially as I'd cycled in to work. I measured out 75g of porridge oats (8p), added boiling water and stuck it in the microwave. I decided to reduce the amount of porridge and forego milk in order to have an extra bit of muffin with my soup at lunch. Not to fear – this also meant I could add a chopped up apple (18p) to the porridge for flavour. So breakfast cost 26p. So far, not too bad. not the best breakfast I've ever had, but not the worst…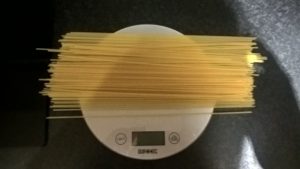 More tactics – delaying lunch til 3 and drinking lots of water. I had to make a few phone calls in the morning which helped keep me busy – I did have to go into the kitchen a couple of times and managed to avoid looking at the chocolate lying around… I have to say I was very happy when I decided to relent and allow myself lunch. half a tin of spiced lentil and tomato soup (25p) plus 3/4 of a muffin (not having milk in the porridge has paid off!) the spare 1/4 of muffin did look pretty sad but I had to leave it. Lunch was very tasty but I was still pretty hungry when it was done! I started a conversation about work to take my mind off the hunger and then read a couple of articles online to distract myself. then back to work, more calls and a couple of meetings. I kept out of the kitchen for the rest of the day and headed home on my bike about 7. I thought I might be tired but it didn't seem too bad…
When I got home I fed the cats who also seemed pretty hungry – one of them jumped up towards the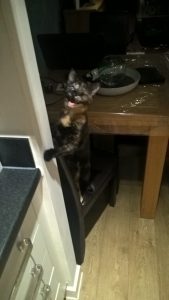 counter as I was getting their food ready. We're in this together, I thought… Night 1 of eating pasta was ok. The bag said 75g of pasta per person but I've got 500g over 5 days so I was definitely giving myself a full 100g – measuring out the full 100g gave me a lift. It wasn't the most appetising pasta anyone's ever had – I forgot to take a photo but don't worry, I've got another four nights to go and it isn't going to look any different so you'll see it soon. There was plenty of pasta but I still felt a bit hungry when I finished so I was already regretting not being able to eat some sort of pudding. Never mind. I distracted myself with some telly and told myself tomorrow is another day. then I remembered I needed to eat the same all over again.
Four days isn't that long right…?
Day 2
Rather than being in the office I'm on a training day in our head office up in Peterborough. Having forgotten to bring back my ration of porridge and an apple from the office I don't have breakfast. Normally when I'm travelling I'll pick up some food at the station if I'm feeling hungry in the morning – but I can't do that today and, unsurprisingly, I'm feeling pretty hungry! It's a long 45 mins from Peterborough to London when all you can see is business people eating their breakfast pastries.
As is customary at these training days there's biscuits and other delights on offer for breakfast. normally I'd gorge on them all day but I manage to resist for the duration. Several times my mind and my eyes wander over to the biscuit bowl. It's excruciating but fortunately I manage to stave off the urge. At lunch while everyone else gorges on the buffet (sandwiches, samosas, sausages and chicken sticks, not to mention more cakes!) I heat up my half a can of soup. I've worked out that if I don't have breakfast on a couple of days I can have a full muffin with my soup. Some success. Still I feel very envious of everyone else as they're eating what is patently much nicer food, and much more than what I'm eating. It made me think of when I lived in Uganda – you would always see people looking in to restaurants and bars at others who were able to afford to eat and drink out in nice places. Fortunately for me I do have some food and it's not too bad.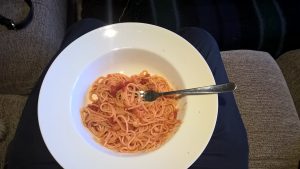 After watching more people scoffing nice food on the train and in the restaurants at Kings Cross I finally made it home and cooked up another big bowl of pasta and sauce. I was starving by the time I ate it so didn't mind that it felt a bit bland! Today was up and down – excruciating not being able to partake of the nice food on the training course, coupled with blessed relief when I finally get my own dinner. However, knowing that I only have to do this for a few days I'm definitely feeling fortunate despite the limitations on me this week.
Day 3
Back in the office I again wait until 11 to have breakfast – more watery porridge. I'm not impressed to be honest. Even mixing in the apple doesn't improve things much. There's more chocolates on the side too and I can't eat them. I pour myself a jug of water and drink a bit every time I have the desire to eat. It's bizarre – I don't need to eat but the fact I can't is frustrating. Then I feel bad because I have clean drinking water to keep me going and millions of people don't have that to keep them company when they're a little hungry.
I get through to lunch – I head out to buy a can of soup at the local shop but I realise that they don't have the cheap can I need. So I walk an extra ten mins to get to the supermarket where I can get my 55p can (lunch for today and tomorrow). It's not far but it brings it home to me that, ordinarily, I would just have paid the extra and picked up the food in the nearby shop. Instead I've got to try that little bit harder to get what I need. I gobble lunch down in about a minute and a half when I get back to the office – though I'm getting pretty tired of the soup now…
If I was bored of the soup then when I put my plate of pasta in front of myself this evening it was even worse. I'm used to having something different every night, and something usually pretty delicious at that. I can't even afford the salt or pepper to make it a bit more exciting. My cats don't like the look of it either. I pause for a few seconds but then, remembering that I'll need the energy tomorrow, begin to eat. Despite being pretty hungry I don't eat it particularly quickly… just two more days…
Day 4
I'm heading out tonight so I need to pace myself again. I wait until 11.30 for breakfast – I'm thoroughly sick of porridge by now though. Even the Apple doesn't jazz it up enough. A but spills over the edge of the bowl in the microwave and though I'm really hungry I don't for a second consider scooping it up. I'm not going to miss porridge!
I keep myself busy at work – managing to avoid leftover Easter eggs in the process – before getting to my soup at 2.45pm. Soup was actually pretty good with a muffin though again I'm looking forward to being able to east something different.
Dinner is a different story. Because I'm heading straight out from work. I cooked extra pasta last night. After heating it up it is thoroughly unpleasant – dry and not very tasty. Still, I need the energy so I have to eat it. I think to myself, 'don't worry the next meal will be ok'. Then I remember that it won't and my heart sinks! I trudge off to meet my brother. We watch football and then head to a concert. He can have a few beers, I can't. My overwhelming sense from today is that I feel very tired but incredibly lucky that this isn't the norm. Several people have commented that I'm doing very well and that they're very impressed with how well I'm doing. This continues to make me feel guilty because, in all honesty my day to day survival is easy from the point of view of sustenance. I never want for food, I have endless options available and if I ever miss a meal its because I choose to, rather than because I can't afford to eat. I'm looking forward to finishing the challenge but slightly ambivalent about being able to slip back in to what seems more and more like a life of relative luxury.
Day 5
Can't face porridge. I don't eat breakfast and instead just have an Apple at about midday. I had to get up early to visit a school with work though so my stomach is rumbling. Someone in the school canteen offers me a cheese toasty at about 10.30 but I explain that I can't. Not long now…
Having had the Apple, and because I'm shifting between various meeting's and not in the office I simply forego lunch too. I'm so bored of reading the same thing that I just don't bother.
Work continues and I make it through to the end of the day. Rather than having pasta though I'm actually heading to the airport in the evening to catch a late evening flight on holiday. I didn't bother to cook pasta but then it occurs to me that even though plane food is available I'm not allowed to eat it. I've eaten an apple all day and because I wasn't prepared I now have no food fur the rest if the day. I'm flying west too so I can't even argue that I've moved forward in time past midnight!
In the end I eat the plane food. It's about 11pm UK time on Friday night when I eat it. I could have made it through if I'd prepared my pasta so I feel bad about not quite finishing the challenge. I feel horribly tired though and I've only had an Apple all day. The end if the challenge definitely made me think: it would be horrible to be in this position and not have an option of eating; it would be even worse to be in this position day after day, week after week. I've spent a fair amount of time this week feeling guilty about the fact that I'm fortunate enough to not be in that position. Even this week the actual challenge hasn't felt particularly difficult – food was always available and I could actually buy quite a lot with £5. My mental anguish wasn't really accompanied by a genuine possibility of not ever having food. If I do it again I might have to make it a bit more realistic…
I've had interesting conversations with people though so I think I've done a good job of raising the issue. The conversations I've had with people have centred on the fact food is available, the fact there's so much choice and the fact that I can, if I choose, eat healthily every day. Which made me feel guilty…
But I wanted to end on a positive note. Doing the challenge has made me feel very fortunate – rather than dwell on that guilt I think we should be working towards a world where no one struggles to secure food on a daily basis, where everyone has options and where this struggle doesn't cause the sort of anxiety that you must feel if you don't know where your next meal is coming from.
The work S.A.L.V.E. does provides absolutely vital support to children who experience these hardships and I encourage everyone to support it. As for me, I'm just glad I don't have to have porridge or pasta anytime soon…