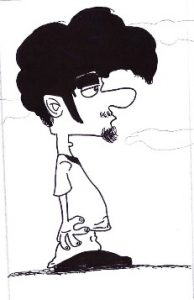 Hello everybody!
My name is Francesco and I am 25 years-old. I am currently living and working in Berlin, Germany.
I decided to accept the Inequality Challenge and to live everyday spending only 1.50 € in food and drinks for a week. My goal is to increase awareness about life under the poverty threshold.
You can donate to support my challenge here. All the money raised will help to support children living on the streets of Uganda.
DAY 0
Tomorrow is the first day I am allowed to spend just 1.50 euro for food and beverage.
I decided to get ready to this experience: instead of spending everyday a little amount of money, I decided to do groceries today and buy ingredients for 7.50 euro.
I live in Berlin, which is considered a cheap city compared to other western European capitals and one of the most affordable cities in Germany.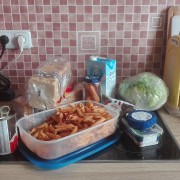 With this money I was able to buy at closest discount 1 kilo bread, 500 grams of pasta (with my Italian roots,it was inevitable), a can of tomato sauce, 5 sausages, 2 different kinds of cheese, milk and some salad. Even with this amount of food, I regretted immediately to spend all the money in a supermarket instead of going to the normal market and buying more products with more variety. Anyway, once home I decided to cook the pasta and to prepare a sauce with two of the five sausages, in order to have it ready for the next days.
I eat usually two meals a day, lunch and dinner. It means I should cover a total of 10 meals, which I plan to divide using pasta at least three times, salad once or twice, and sandwiches with cheeses, salad and sausages for the remainings. I also have milk if I feel like drinking it in the morning for breakfast. I can count on tap water for beverage, which I am actually already doing, and I can also find fresh fruits on my workplace, provided by the company in order to respect their healthy office policy.
There are several factors which are advantages for me in this challenge: I have a place where to store my food, I have a fridge, I have the chance to cook and to prepare myself for the week, I have direct access to tap drinkable water wherever I am and I had the time to plan my needs for the coming week. Due to the priviledged context that surrounds me I personally think that a week spending just 1.5 euro will not put me in the same condition as a person living under the poverty line, but I believe it will help me to reconsider my consumptions and to understand how to reduce daily wastes. Hopefully, it will increase my knowledge about saving money and it will raise your interest on this topic.
Whish me good luck and see you tomorrow!
DAYS 1 AND 2
The first day was not particularly hard: it was still Easter holiday so I stayed at home for the day. I ate two sandwiches for lunch and part of the pasta for dinner; I drank a lot in the afternoon when I was a little hungry.
During the night, I met some friends to go out. We went to a bar and I was the only one who did not get something to drink. It is not the first time somebody does not take something at the bar, but it made me think about how many of our basic interactions depend on money and consumptions. It would be way more annoying not to be able to spend money for a bar all the time: first of all I would have to spend my time seeing people drinking (and worst, eating) and then they would have to spend money every time, to allow us to stay in the bar. That would be reason for some tensions, even between friends who know well each other. It would force just somebody to spend money for the whole group. This is a small insignificant example of why a person with little money is not just economically poor, but also cut away from socialization. Being poor makes harder to relate with other people. So, even though we can say human beings are social being, we should recognize that even a certain kind of socialization is a privilege.
The second day, which is today, I went to work and I took a salad with me. My flatmate decided to help me out with this challenge and she gave me for free a couple of eggs, so I used one for the salad. Once in the office I enjoyed my food and some fruits, which were in the common kitchen. I was also very happy to drink espresso for free from the coffee machine, I would not be able to focus at work properly without it all day. I am now back home and I will eat the rest of the pasta today. I am quite hungry and I don't think I will leave some for the next days. I am quite bothered by that, I did not think that I will miss warm food in the next three days. I usually eat at least one warm meal out of two, most of the time for dinner. It will be really annoying preparing sandwiches for dinner.
The plan for tomorrow is to do another salad with the second egg I have for lunch. If I am lucky, I will probably eat at a friend's place for dinner, otherwise I will go for other sandwiches.