We want to see as many children as possible get the chance to leave their life on the streets in Uganda and have the opportunity to gain an education. We are a small, hard working organisation who always make the most of our limited resources.
Without your help, our work would not be possible and any fundraising is always gratefully received. Please get involved and make our vision of "No street called home" possible.
So what can you do?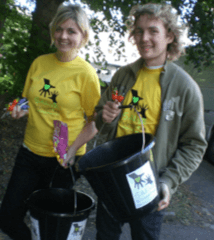 Fundraising can seem like a daunting task, especially at the beginning when you feel like you're miles away from your target. So, we are here to help you. If you need some inspiration on what to do then we have lots of ideas to help you with your fundraising. Whether you're fundraising with friends, family or colleagues there are many things that you can do. And remember, the most important thing is to HAVE FUN!
Take a look of some of our fundraising ideas by clicking on the links below and do get in touch if you have any questions at all.
Remember, you are not alone. Whatever fundraising activity you wish to do we will support you any way we can.
If you need any extra ideas, support, or advice then do not hesitate to contact us.
From all of us at S.A.L.V.E. International GOOD LUCK!