Adam is 16 years old and comes from a village close to Jinja town. When he was younger, his parents separated and both remarried.
Unfortunately, neither of his parents had the means or interest in looking after Adam. When he was staying with his mother, she would send him to his father and his father would do the same. Eventually, it reached a point where his stepfather refused to look after another man's child, and his own father told him that he was an adult now and should leave and look after himself.
Feeling hurt, confused and alone, Adam left and ended up on the streets where he spent five months feeling completely isolated. He even avoided speaking to our social workers when he saw us on our street walks. However, one evening, when we were doing a night time street walk, he realised that in fact, we were people he could turn to. He began speaking to our staff and slowly began to trust us enough to attend the Drop in Centre.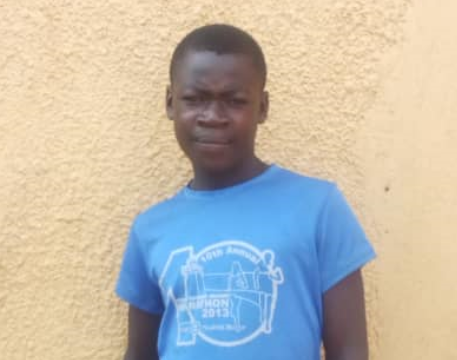 Our team listened to his story and helped him to trust us enough to take him home to meet his parents. During the home tracing visit, we spent time with his family explaining the importance of supporting their children and the danger he was in when living on the street. Now, he is back living with his father and wants to learn welding, a skill which will help him support his family one day.
We have decided to enrol him into our educational sponsorship programme as his family are unable to support him with this.
Adam loves playing football and is looking forward to the chance to start his vocational training.
Could you sponsor Adam for 35 pounds a month and give him the chance to create a brighter future full of opportunities?
Please get in touch with nicola@salveinternational.org for more information.
*We have changed Adam's name in line with our child protection policy in this public space.