Alex is 15 years old and comes from a small town in the north of Uganda. After his father died, the situation at home became very difficult. There was barely enough food for Alex and his brothers and sisters to survive.
His Uncles believed they had found a solution to this problem. They told Alex that at 15 he was responsible now and he needed to join the army to support his family.
Alex wanted to stay in school and finish his primary exams. His mother agreed, but his Uncles convinced the community this was in the best interest of the family. In the end, he was so scared that he ran away and ended up on the streets.
He lived on the street in Jinja for seven months. Whilst on the streets, he got to know the S.A.L.V.E. team during our regular street walks. We learnt about his story and encouraged him to come to our Drop in Centre.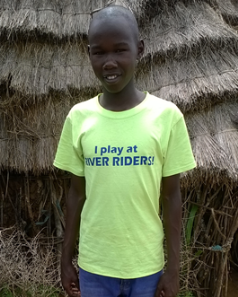 Alex is now back at home with his mother after one of our social workers resettled him. We have worked with the community to explain the importance of respecting a child's interests and not forcing them into work.
After assessing his home situation, we have decided to enroll him into our full sponsorship programme and support him to attend boarding school where he will really be able to focus on his studies without pressure from the community members to find work.
He is excited at the chance to go back to school and make new friends. He loves to play football after school and dreams of becoming an engineer one day, a career that will mean he can really help to support his mum.
Could you sponsor Alex for 50 pounds a month and give him the chance to create a brighter future full of opportunities?
Please get in touch with nicola@salveinternational.org for more information.
*We have changed Alex's name in this public space in line with our child protection policy