Alex* is 15 years old. After the death of both of his parents, Alex went to stay with his Grandmother. However, with five other grandchildren to look after at home, the living situation wasn't good. His Grandma could not afford to pay for food for all of the children, and definitely could not afford things like school fees or books.
Bored at home, and hungry, Alex decided to join his friends and began to spend time on the streets. When his Grandmother tried to discipline him, and stop him spending time with his friends on the streets, Alex became upset and left permanently for the streets of Kampala.
His life on the streets of Kampala was tough, but his friends told him life would be easier if he moved to Jinja town. Here, he met social workers who were doing street walks for S.A.L.V.E. He was interested in their work. He began coming to the Drop in Centre every day, where he learnt about the risks of life on the street, and began thinking about going back to his Grandmother.
S.A.L.V.E. helped Alex return home to his Grandmother. However, his reputation as a 'street child' means he is struggling to settle at home. While we continue to work on this relationship, we believe he would be best suited to attend a boarding school so he can prove to everyone he has potential despite the fact he used to live on the streets.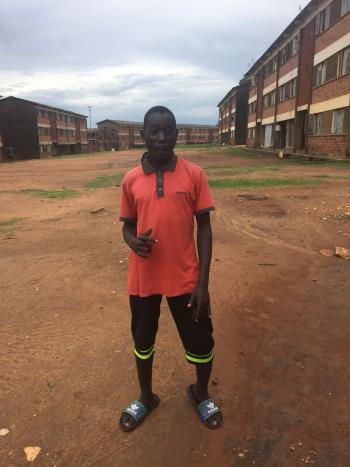 Alex dreams of becoming an engineer. His favourite subjects are music and drama, and he likes playing football.
Could you sponsor Alex for 40 pounds a month and give him the chance to create a brighter future full of opportunities?
Please get in touch with megan@salveinternational.org for more information.
*Please note Alex's name has been changed in this public forum in line with our child protection policy.