Alfred* is 16 years old, and comes from a small village in Eastern Uganda.
Both of his parents work as casual labourers, meaning that when they could not find work, there was not always enough food to eat at home.
Unfortunately, Alfred did not have a good relationship with his Grandmother, and she used to verbally abuse him regularly. One day, upset at the way he was treated, Alfred ran away.
Alfred spent a year living on the streets of Jinja, feeling lost and too scared to go home. Here, he met social workers who were doing street walks for S.A.L.V.E. He began coming to the Drop in Centre every day, where he learnt more about the risks of life on the street, and asked for help to go home and rebuild his relationship with his family.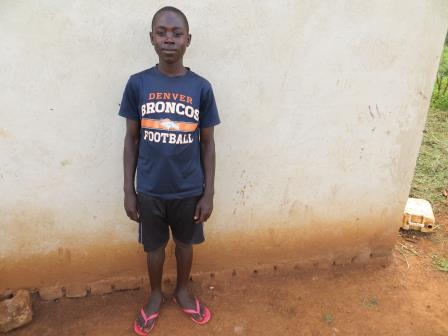 Alfred wants to become a driver when he is older. His favourite subjects are maths and science, and now he is looking forward to a brighter future by going back to school.
Could you sponsor Alfred for 20 pounds a month and give him the chance to create a brighter future full of opportunities?
Please get in touch with megan@salveinternational.org for more information.
*Please note Alfred's name has been changed in this public forum to help to protect his identity in line with our child protection policy.