Isaac comes from a village in Eastern Uganda.
Isaac's parents separated and his father remarried. Unfortunately, his stepmother did not treat him very well and he was chased out of the family home. He did not know where his mother was and so he had no choice but to live on the streets of Jinja.
Isaac had spent 3 years on the streets of Jinja before we met him during one of our street walks. He was encouraged to visit our Drop in Centre and he started to attend regularly.
We have managed to find his father and have resettled Isaac into the family home again after working with his stepmother. However, his father currently cannot work due to a serious illness and so he cannot afford to pay Isaac's school fees.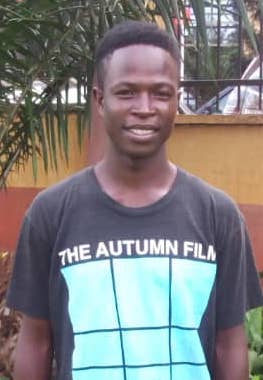 Isaac dreams of becoming a hair dresser and to earn a good living to support his family. When in school, Isaac enjoys learning English and History. In his spare time, he enjoys singing and playing football.
Could you sponsor Isaac for 40 pounds a month and give him the chance to create a brighter future full of opportunities?
Please get in touch with megan@salveinternational.org for more information or if you have any questions.
*We have changed Isaac's name in this public space in line with our child protection policy