James* is 13 years old. His parents divorced some time back and he was living with his mother in the village in Mbale district which is found in the Eastern part of Uganda. James's mother had no job and his father did not help by providing any support for his basic needs, making everyday life a struggle for his mother.
Soon she also got into relationship with another man and he started living with them. Sadly, he did not want to live with James and his younger brother and their mother chose to send them to live with their grandmother in a slum area of Jinja called Masese. She took them and left them there and went back to the village to stay with her new partner, leaving James and his brother with the grandmother.
Initially, the grandmother had a small job sweeping the streets of Jinja to generate some money and was able to take care of the 2 boys at home and she could even afford to send them to school. But when time went on, she was no longer needed at her job. She lost her only income and was no longer able to support them with all their basic needs at home, or to pay school fees for them. James and his brother started going to the streets of Jinja town to collect scrap and plastic bottles to sell and get money to provide food for themselves and their Grandma.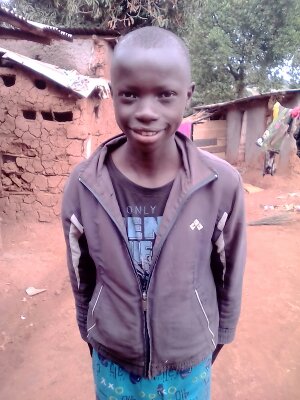 We met them during a street walk and they started attending out drop in centre regularly. Once we got to know them, we home traced them to their Grandma and talked with her about what was causing them to come to the streets. We told her about the dangers they faced on the streets and she promised to encourage them to stay home.
We have been following up on James and his brother regularly and they have kept their promise to stay home and not come to the streets. We have decided to enrol them into our partial sponsorship programme to ensure that they can continue with their education and to reduce the risk of them coming to the streets again.
James's favourite subjects are Science, English and Maths. He enjoys playing football and dreams of becoming a doctor one day. Could you sponsor James for £20 a month and help make his dreams a reality?
Please get in touch with megan@salveinternational.org for more information.
* The child's name has been changed in line with our child protection policy