Lolly is 13 years old. She comes from a village in Eastern Uganda where she lived with her mother and father. When she left home, her father was working as a casual labourer and struggled to provide for her. As he could not afford to pay her school fees, he decided it was time for her to get married.
Her sister saw this and tried to stop it from happening. She sent Lolly to stay with a friend who she thought would be able to pay for her to attend school. Unfortunately, when she got there, the woman gave her maize and forced her to go around the town to try and sell it.
Feeling desperate, Lolly ran away to the street. She spent two months living on the street in Jinja before she met some of the S.A.L.V.E. team on a street walk. She told us her story and came with us to the Drop in Centre. Here, she received counselling and support. Recognising her vulnerability, she was immediately invited to our Halfway Home where she could stay safely while we searched for a family member.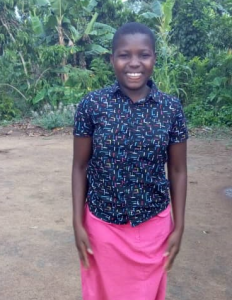 Lolly has now been resettled back with her family and we have decided to enrol her into our full sponsorship programme as we believe she will perform better in boarding school while we continue family counselling with her father to make sure he understands how important it is that she can finish her education.
Lolly loves to sing in her spare time and wants to go back to school so that she can learn to become an accountant.
Could you sponsor Lolly for 40 pounds a month and give her the chance to create a brighter future full of opportunities?
Please get in touch with nicola@salveinternational.org for more information.
*We have changed Lolly's name in line with our child protection policy.