Alcoholism is one of the most deadly diseases that people are facing in Uganda, and around the world. Over 5% of the population have lost their lives to either mental or physical health problems due to alcohol, and among them are the parents and relatives of a young teenager.
Meet Alex. He is 15 years old, quiet and down to earth. But the damage alcohol has left on his life and family are overwhelming. Alex is currently staying at S.A.L.V.E's halfway home, where we temporally house formerly street connected children. This is not because he has no living relatives, but because the finger prints of the ones still living have been more destructive than beneficial so far…
Alex's story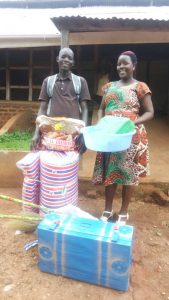 Alex says he became aware that something was wrong as a young child when he saw his mum and dad fight in the evening, but he could not understand why. Now he knows they were under the influence of alcohol. Alex was the first born, followed by twin girls who he had to take care of until their parents came back from the bar at night. This responsibility meant that he did not enjoy his childhood. He says that at that time they were staying in Tororo, one of the districts in the Eastern part of Uganda, and due to constant fighting between his parents, their neighbours had reported them to the local chairperson of the village in case one of them hurt another. The chairperson was patient for as long as possible, but eventually had to chase them from his village. So Alex, his two sisters and their mum came to Jinja. Alex's mum had a sister in Masese, one of the slum areas near to Jinja, and they left Alex's daddy in Tororo.
At that time Alex says he was happy because he thought maybe if daddy and mummy are not together, Alex and his sisters would get some attention from their mum and the fighting would stop. As they reached Masese, he was again perturbed as he began to notice many drinking groups. To make matters worse, their Auntie was already drunk by the time they reached her house! The situation at Alex's auntie was even worse and their mum began drinking at an even faster rate. This was not the positive change he had been dreaming of.
After some time, Alex's mum was sent to their village in Northern Uganda, as an attempt to curb her drinking, and her three children had to remain with the sister in Masese. Life with the auntie was not easy, but because she was not physically abusive it was better to stay with her. As time went on, Alex started going on the streets of Jinja to earn some money and escape life at home. It was here he met S.A.L.V.E. who helped him to realise the streets were dangerous and it would be better to go to school and build a brighter future.
His auntie even started to want to change and reduce her drinking so she could be a better care giver to the children. A close relative advised the auntie's husband to use a local medicine to stop his wife from drinking so much. Someone directed them to a witch doctor who administered the medicine to her, but after a day she had stopped walking and when she was taken to hospital they realised she had been poisoned. The witch doctor had run away and after some days, she passed on leaving behind her three children plus Alex and his two sisters.
When they took the body to Moroto for burial, Alex found out that his dad, who they had left in Tororo, had gone mad and disappeared and Alex has not heard any news about him since. As S.A.L.V.E had started helping him to go back to school, he had stayed with another auntie in Tororo and resumed his studies from there. His two sisters and cousins were brought back to Jinja with another organisation.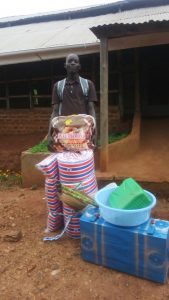 While staying at the auntie's place, news came about his mum's death – another person taken away from Alex due to alcohol. Alex says that at this time, he just felt too tired and he wanted time to stop moving so that nothing like that could happen again to any of his family.
He continued staying with the auntie and going to school, until his auntie got in some trouble over some money she was lent, and ran away and left him in Tororo. Alex was left with another uncle, who spent all of his money on alcohol and could not afford to put food on the table, forcing Alex to start looking for small jobs like fetching water for people. Alex needed to work to find food, but could not do this and also go to school. Alex was scared to share that he once again was having challenges, as he didn't want to be a burden.
Luckily, a S.A.L.V.E. social worker realised what was happening. We spoke with Alex about what he wanted, which is still the chance to study, and decided to take him to a boarding school so that he could have an opportunity to be cared for and concentrate. Alex will now stay at the S.A.L.V.E. Halfway Home for holidays, and is much happier. He is now trying to look for his two sisters, because he was too young to ask questions when they were taken by another organisation. Fingers crossed, we will find them soon. We will also keep looking within his extended family to try to find more relatives who can provide the caring family support that him and his sisters deserve.
Thank you for your support that allows us to give the long term care and support that children like Alex need to make sure they can leave the streets behind them and have a brighter future away from the streets and alcohol.