3 People across the UK are taking on a Kindness Challenge from 22nd – 28th April 2017 to explore the inequality of kindness as part of the inequality question project led by street-connected children in Uganda. Find out more about their challenge week below.
In case our blog inspires you to want to show kindness to strangers, specifically children living on the streets of Uganda, we would welcome your support and donations here.
Day 1: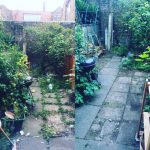 Jill decided to help neighbours in her community with their gardens:
"Here you can see before and after photos of my neighbours yard. She came out and at first way trying to tell me to stop because they were uncomfortable and unsure why I wanted to help. When I explained a bit more about the inequality question project she was really touched. She invited me over for tea, so made a new friend too"
Nicola decided to donate food to her local food bank and share her skills with a stranger: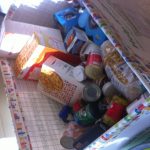 "I often give away my clothes and other household items which are still in good condition to charity shops or to someone in Uganda (depending on what the item is and where it might be most useful). But I'd never donated food to a food bank – and with such a rise in food banks in the UK over the last few years, I thought I should do more to show food kindness.
I also placed a skill sharing advert out offering myself to help anyone who needed it for the afternoon. What was particularly heartening was that I got more offers from others liking the idea and wanting to help than I did people wanting to take me up on being helped. I gave some business modelling and website design support to a lovely young woman from West Africa who wanted to build an online business.
Then on my way home I met with a friendly woman who has been homeless for four months. She was sat in the shade shivering on a sunny day because she wasn't allowed to sit in the bit of street with the sunlight on it. She was made homeless after her mother died of cancer. She had had a difficult time accessing services to get off the streets (including being sexually abused when staying a a place that was supposed to be a sanctuary). She is now accessing different services, but still has to go and beg each day to get money to fund her place in sheltered accomodation. She shared about her experiences of different levels of kindness shown by the community in Manchester. I believe it is wrong that people have to pay for their accomodation in shelters if they are homeless. She told me it forced people like her to beg and consider shoplifting. I was able to pay for her accomodation for that evening, but it didn't feel like enough. It shows that the UK social system isn't funded or supported to a level which allows it to fulfil its kindness duties at the moment and it needs more investment."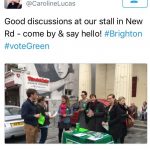 Katie decided to go and volunteer to encourage political participation and kindness:
"Let's get this kindness wagon moving! A few hours spent campaigning with Caroline Lucas for the only party that seems to make the world a kinder place! I might be losing my voice but it felt amazing to be out engaging with people and sharing ideas with those worried about how we care for our disadvantaged, look after our environment, and create a better future."

Day 2:
Nicola decided to give away books for free with messages of kindness inside: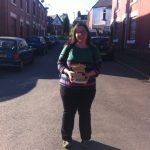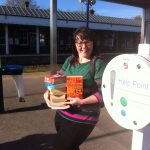 "Together with my kind friend Veronika we set off to share the joy of books on a sunny Sunday afternoon. I love reading so it was nice to give away something that makes me happy to try to share a bit of joy with others.
We started off in the train station and found people were a bit suspicious of us and what we were doing at first, but then they appreicated it once they realised we weren't asking anything of them in return.
Since we still had books left over we decided to share them through the letter boxes of a randomly selected street – a nice treat in the post!"
Katie decided to give away books for free with messages of love inside: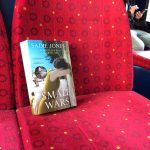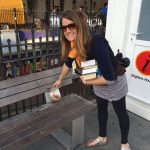 "Yesterday afternoon we left free books around Brighton Station as part of our Kindness Challenge for S.A.L.V.E. International, fingers crossed people read the message of love inside and pay it forward. We also left some books on buses too. I absolutely loved it! Everyone looked so quizzical, but 3/4 of the books had already been adopted by their new owners by the time we left."

Jill decided to give out free hugs to brighten up people's day: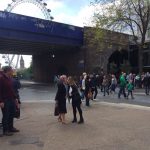 "I ended up giving away Free Hugs today.I stood with my sign offering free hugs and let people choose to come and hug me, rather than forcing my hug upon them.
The first few moments are the weirdest with onlookers staring, but then feels so great to hug and appreciate strangers for no reason other than connection 😊"
Day 3:
Katie decided to give out compliments (a Monday pick me up):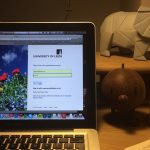 "I mostly work from home so for most of my morning I tried to integrate compliments into my emails – both to colleagues and those I have never met before, some of which transformed purely bureaucratic exchanges into much warmer interactions. Then this afternoon I took my compliments out into the world (and out of my comfort zone!)..
It's been an interesting challenge pushing me to reflect on the kind of compliments I give. I realised quickly that the easiest compliments to deliver are the shallowest- commenting on a nice item of clothing, a lovely smile, great hair style. Whilst these were warmly received I ended up a little frustrated as the one of the points of this challenge (for me at least) is to look beyond the surface to see the people behind the faces. Trying to find a more meaningful compliment for a perfect stranger is altogether a different challenge! And I am therefore going to continue working on this over the next few days, throwing myself into more sustained interactions with strangers to open up opportunities for sharing more meaningful compliments."
Nicola decided to compliment strangers to uplift their Monday:
"So today's challenge is harder than I thought it would be. Giving out compliments and appreciating people to uplift their day … easy… right?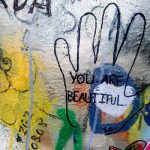 Inevitably I found myself repeating some of the same compliments.  Appreciative words mean more if you have deeper knowledge and meaning behind them and people can tell if you are being false. So the only way to be able to properly compliment a stranger is to take a bit of time to get to know them. But that's the point. We so often appreciate the people we know and care for, but don't always notice all the people who surround us everyday.
My train to work this morning was delayed … and yes you guessed it, reduced in size so that people were packed in like mangos in a chutney. To offer compliments about how well the train staff were handling the situation rather than keep quiet or saying something negative, helped to create a nicer atmosphere and grateful smiles.
I think my best compliment of today was to a homeless man's dog. He has been rough sleeping for two years and said his dog has adapted her behaviour to protect him from the people who try and kick them both in that time. Appreciating the braveness of his dog made him perk up in the same way I see my parents perk up when someone says something nice about their crazy springer spaniel. At the end of the day there is no greater compliment than someone else appreciating someone you care deeply about."
Jill decided to compliment strangers across London to motivate people this Monday: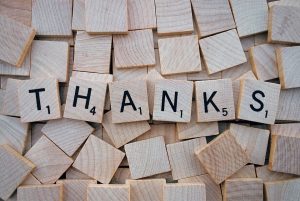 "Today was more uncomfortable to start than the free hugs! I was practicing in my head for a bit to think about things I appreciated about strangers but it can be hard to comment at times being a rapid judgment.
I mostly focused on external items like, nice hair or outfit which people would  politely receive. I spoke to and complimented some foreigners at a cafe after a taking their picture. I also did some carrying of strollers at the tube and found that when you compliment people's children they were fairly happy to hear it. I also told a worker at the tube "thanks for keeping us safe" which went down pretty well :)"
Day 4:
Jill decided to expand her circle of appreciation and compliments to her acquantances: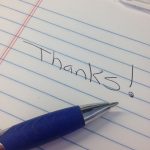 I've been staying with compliments today and been focused on acquaintances at work, which had lead to good conversations to get to know one another better. There are a lot of people around us who are almost strangers, yet we see them every day.
I even tried stringing as many compliments in each of my responses without sounding crazy… The maximum is 3 in a row so far, lol.
Katie continued to share compliments with strangers as she encouraged political participation: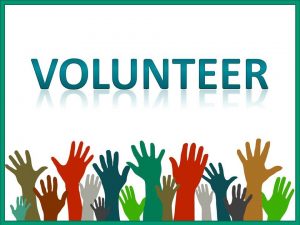 Over the past couple of hours I have been knocking on doors and tried to both engage people in discussions about politics – entirely out of my comfort zone indeed! 
But it was also an opporunity to squeeze in a compliment such as "I love the way you phrased that", or "thank you for such a thought provoking discussion", "I really admire your commitment to local issues", alongside "your garden is beautiful, it must have taken a lot of work!", "what a wonderful front door!" And "your flowers have made my day!" From hesitation yesterday I feel like I am really getting into complimenting/ appreciating strangers now- this could become addictive!
Nicola shared hugs with a crocodile to make people smile: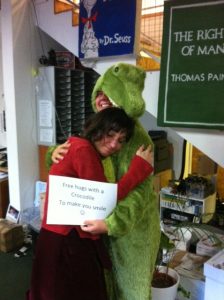 Today I wanted to provide a bit of joy and human connection to others. We live in an incresingly busy and often all too serious world, so my kindness today was to give a laugh and a hug to make others smile and share a fun moment with a stranger.
Of course I hadn't factored in that real crocodiles are water resistant … my crocodile outfit isn't. And not many people might want to stop for a hug in the rain. I wanted the hugs to be an optional choice – so I didn't want to go and approach people in a cafe for example and make them feel pressured into doing it.
Lovely Liz came to the rescue by offering to take a crocodile to her evening singing group and give them the choice of a hug. They were very welcoming and accepting of a strange crocodile arriving in their midst and I managed to give out about 20 hugs in total. Hopefully it made them smile on a raining Tuesday evening.
Day 5:
Today we moved our kindness online. We reflected that we signed less online petitions than we used to, as we felt we didn't always take enough time to read and reflect on all the different issues and campaigns out there. So today we made more time and shared some kindness with the wider world.
Here are a few of our top (current) petition signing recommendations: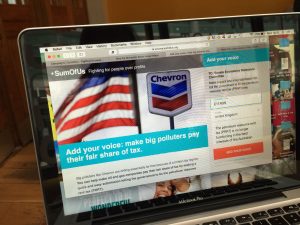 Petition the Norweigen government to end the whale slaughter: Click here to learn more.
Petition to make big polluters pay a fairer amount of tax: Click here to lean more.
Call for a global ban on bee killing neonin pesticides: Click here to learn more.
Stop the rot, end supply chain food waste: Click here to learn more.
Stop abducting and killing gay men in Chechnya: Click here to learn more.
Demand justice for the victims of the Syrian chemical attacks: Click here to learn more.
So today's reflection is about making more time to be kind virtually, and to help share and spread the word!
Day 6:
Nicola decided to give out flowers to strangers with a message of kindness on them.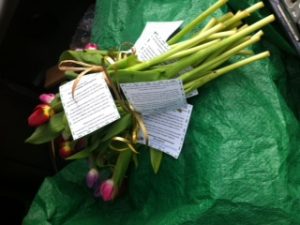 I love flowers. There is something about a bunch of flowers that makes your day a little bit brighter. It could be the vibrant colours, it could be the lovely smell, or it could be that they are a reminder of the big world out there just waiting for you to go and explore.
So today I gave out flowers to strangers. Tulips to be precise. I tied them up with a message of kindness and started to give them out. On the whole they were very well received. A few people said no or looked a bit worried about the idea. But most people were delighted and really appreciated the gesture.  Definately an act of kindness to repeat.
Reflections:
Katie: "I don't have time!" "I'm so busy!" From snatching moments between meetings to check emails, skipping lunch or devouring sandwiches at your desk, writing lists of lists, our lives are undoubtedly busy. But what this challenge has forced me to reflect upon is how it only takes a moment to mindfully reach out to strangers and friends with a kind act. It forces you to be present in the moment instead of your mind racing ahead of itself to the next task- instead you really take stock of who and what is around you: who might need help or an encouraging word, what small act – a book, a hug, a flower, a compliment, a meal, a cup of tea – might brighten someone else's day, and therefore your own?
On Wednesday I seized every free moment and instead of automatically checking my email or social media I read and signed every online petition I could find that reflected campaigns I care about- from protecting the public right to water or Russian and Chechen journalists exposing the torture and incarceration of gay men, saving bees to ending the ivory trade. It only took moments to open up the websites and in this grey time between meetings my world expanded to urgent causes in diverse places, my inbox filling with emails which I stored later to follow up on. It's too easy to use time as an excuse for cynicism, but it's never an excuse to look the other way from the suffering of people and creatures far from us.
In this challenge I began to really look at the people around me, deliberately engaging people in conversations. An introvert at heart, this did take a few deep breaths!! But I was always rewarded! Instead of Brighton and Hove being just somewhere I live and move around, it became a community of people sharing the same place as me. From door knocking for polical engagement, to the confused smiles of people picking up their new books in Brighton Station and day dreaming about where in the world they may end up, to the conversations about cacti, lipstick, Brexit, tide times, recipes, traffic controls, and long distance relationships (to name a few!) across the week, my sense of place and boundaries between friends and strangers has started to blur and shift. It has opened my eyes to the endless possibilities for making new connections.
And I feel I am just getting started! I guess the biggest testament for giving random acts of kindness a go yourself is that this was meant to be a week's challenge but I am now going to make it my primary resolution for 2017.. If we all showed a little kindness, and paid the kindness we experience forward, how we could change our world!
Jill: Undertaking this challenge was different from last year's walking for water challenge, although in many ways it was a challenge of mindset and getting uncomfortable in order to understand the experiences of others. It did take courage to turn your back from the norm (especially in London) and reach out.
However these small changes created beautiful stories and sparked altruistic emotions I hadn't felt in a while. The ripple effect from a small act could be seen in an instant moment from a frown to a laugh, from a tear to an understanding. I highly recommend this challenge and knowing how much a bit of extra kindness can make all the difference.
Why are we doing this?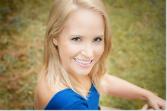 Hello, my name is Jill. This year I'm doing the kindness challenge because of the divide I've seen grow over the years in the treatment of strangers. Living in 8 different countries from small cities to metropolitan hubs, like London where I'm at today showcases this inequality in kindness and care for others. From April 22 to 29th, I will attempt to bridge this gap by pushing my boundaries and comfort zone by treating others as I would a good friend or family member. This will include giving away food, offering help, being thoughtful and trying to encourage pay it forward kindness. I am not only, excited for the adventures that will come from showing others I care, but also what I will learn about myself through these experiences.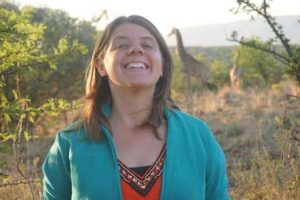 Hello, my name is Nicola and I am the CEO of S.A.L.V.E.
Looking back over 2016 one of the inequalities that has stood out to me most is the treatment of homeless and refugee communities. Whole communities of people are being labelled as 'other' or 'outsider' and this seems to allow for them to be treated in a less kind and compassionate manner. Round ups by police, homelessness spikes moving people on from safe sleeping areas, destruction of refugee camps like the Jungle in France and helping very few refugees on quotas when the need is much greater. This is happening all over the world….
My challenge is going to involve a week of reflection on how we are treating others in our day-to-day life. Challenging myself to see if I can treat complete strangers with the care and kindness I would treat my friends and family with. How often are we stepping forwards and how often are we too wrapped up in our own worlds to really see what is happening in the community around us. I think it will be an interesting challenge!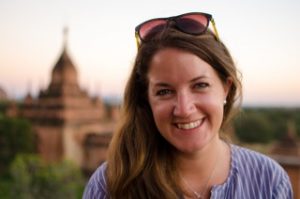 Hello – my name is Katie. I recently had my own, to sound rather melodramatic, watershed moment. Over the past year I, like countless others, have felt both dismay and disconnect as we observed the rise and trumping (ha!) of a politics driven by hate, by division, by a turning of the other cheek to those in need; from an increasingly and fathomless "hard" Brexit, the 'gag clause' cutting funding to women's programmes by the new American administration, to the unforgivable refusal to accept child refugees encamped at our newly fortified border.
I read a quote by the marvellous Angela Davis, who said 'I am no longer accepting the things I cannot change, I am changing the things I cannot accept'. This really made me turn my critical eye inwards. Rather than being helplessly swept between bewilderment, anger and disappointment, what was I actually doing about the things I could not accept? Kindness is incredibly important in our household, and my husband and I consciously strive to be, and act, kind, yet how often (outside of our work in Uganda) do we extend this kindness outwards beyond our families and friends? That is why I am taking part in this Kindness Challenge, not only between the 22nd and 28th April when we are going to be engaging in acts of kindness alongside friends in London and Manchester, stepping outside of our comfort zones to expand our kindness outwards and acting to be the kindness we would like to see in the world around us, but as an ongoing personal challenge to address the inequalities in kindness we cannot accept by being more active citizens.