This is the story of Samuel, a 14-year-old boy from Mbale, Eastern Uganda. He used to live with his father and stepmother before he lived on the streets of Jinja.  
Before the streets
Samuel was studying at primary school level 3 before turning to the streets. At home there were 12 people: 10 children, all boys. Samuel's was the 3rd eldest. At school, Samuel was struggling with his schoolwork and had begun getting into trouble with stealing food, money amongst other things, due to the influence of a group of peers.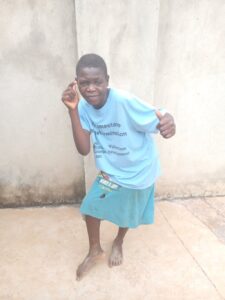 After his father found out that Samuel was not doing well in school, he decided to stop paying school fees for him and teach him about bricklaying instead, since this was one of the family's money earning activities. As time went on, Samuel became tired of staying at home laying bricks, while his friends were learning and growing at school. One day, when his dad and stepmother were outside weeding the garden, Samuel took 5,000 shillings (about £1) from his dad's trouser pocket and went to the streets of Mbale after being told by his friends that he could have a better life there.
On the streets
The day that Samuel left, his family immediately started looking for him everywhere, and even put a message out on all radio stations in the region. When Samuel heard this, he decided to leave Mbale by climbing onto a cargo truck and this is how he ended up in Jinja.
At this time, with the spread of Covid-19 affecting the globe and Uganda at large, the government decided to impose alockdown in the whole country, with an enforced curfew and suspended public transport. Everyone was encouraged to stay indoors and arcades, shopping malls and supermarkets were all closed. As the town was so empty, children living on the streets found themselves fighting to survive. Finding anything to eat was difficult. Samuel spent a full week without any food.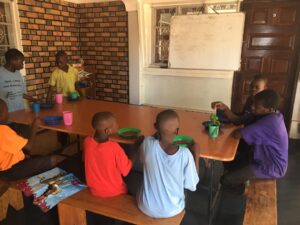 At this point, S.A.L.V.E International came up with a programme to gather all children living on the streets and take them to the S.A.L.V.E. Emergency Centre to prevent them from catching the virus. Amongst these children was Samuel, who was already fed up and tired of street life.
At the Emergency Centre
Samuel moved into the centre and after some counselling sessions with our social workers, it was clear that Samuel was ready to go home as soon as public transport was up and running again, and that his family problems could be resolved with some family counselling.
Joshua, our Street Outreach Manager and social worker worked with Samuel to resettle him home. Only Samuel knew the precise location of his father's house, so he led Joshua on the journey. They managed to reach Mbale town and found the village. Samuel was successfully resettled and the family are living happily all together again, excited to have Samuel home.
Thanks to the generosity of all our fantastic supporters, we were able to open this emergency centre to provide a safe place for these children during the lockdown and whilst the centre has now closed, we continue to support children living on the streets to ensure that there is 'no street called home'.