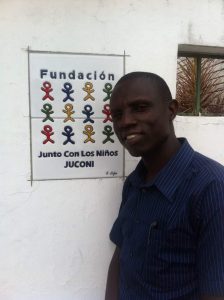 My name is Alfred and I am the Resilience Champion for S.A.L.V.E. International. We were lucky to be selected to work on Building with Bamboo. This is an international learning project exploring resilience-based ways of working with street-connected children. The project aims to find out how we can develop approaches that support children to cope in the face of adversity on the streets. S.A.L.V.E. is exploring resilience creatively using music, dance, drama, art and sports. The project is led by the Consortium for Street Children and we do it alongside JUCONI in Ecuador and C-Wish in Nepal.
Going to Ecuador
The Ecuador trip was very awesome; even though it was one of the longest flights I have ever experienced in life. It took us 8 hours to fly from Entebbe to Amsterdam, 7 hours from Amsterdam to Quito airport in Ecuador and 45 mins from Quito to Guayaquil.
I cleared with the counters at Guayaquil airport, and I reached at a point where people had gathered waiting for their visitors arriving and receiving them to take them home. As soon as I reached at this point, people gathered at this point waiting for their visitors saw me and shouted, "yeah!" I also shouted back by replying "yeah!"
My learning trip for Resilience
I was very happy to get the chance to go to visit JUCONI in Ecuador having heard so many great things about them and their work. We had a busy week, exploring learning cycle two of our resilience programme, developing future themes, action plans, and better outcomes for the family and children. I also got a chance to see JUCONI's work in action, both at family homes and in school.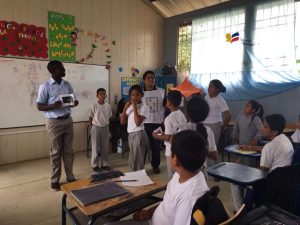 Ruth Edmonds the evaluator joined us through video Skype all the way from Scotland and there was a lot to learn. My concept is to establish a better parent to child relationship and I am working on the following developments and activities: bringing families and the children together so that some families can share their experiences of how they have managed to establish positive relationships with their children. This will use peer learning as families who are struggling with creating better relationship will learn from families who are already having good relationship with their children.
I am hoping to achieve the following outcomes: improved communication between parents and children, staffs equipped with skills to establish better relationship between parents and children. At times there are issues that come up during the counselling sessions between parent and children. I like to listen from both the parent and the child. I am not judgmental but try to analyse  both parties point of view and I will be a mediator to resolve issues.
The value of this in terms of promoting resilience and wellbeing amongst children are: increasing the shared responsibility between S.A.L.V.E. and family, children will be able to depend on their parents for support, and finally S.A.L.V.E. International will be more efficient at achieving its objectives when family units are stronger and more resilient.
When I got back to Uganda I wanted to share with my fellow S.A.L.V.E. team members about some of the good things I learnt when I was in Ecuador. So I ran a special training session for them to make sure they also got a chance to taste my experience of going to Ecuador and learning from our friends at JUCONI. We looked at their model of work i.e. how they befriend childrne on the streets, how they give therapy to families and how they work with schools to help children to become more resilient i.e. by recognising and controlling their emotions.
Interesting things I discovered about Ecuador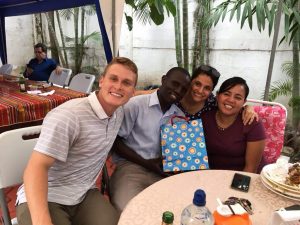 I was surprised that there is a very big time zone difference between Uganda and Ecuador, the time we were waking up in the morning was the time when my fellow Ugandans were going to sleep, and this made me to really wonder why things happen this way. It was also a good experience for me having to experience to eat food that I have never eaten before.
Most people in Ecuador speak Spanish however we had an interpreter to translate for us in English, within two days my Spanish language was getting good and actually if I was to stay there for a month, I would be able to speak it I think. I discovered that am a quick learner. I realized that the Ecuadorians are so friendly and loving. They show their love by kissing each other in greeting and goodbye; this is something which isn't too common in Uganda. I got used to their way of life.
Thanks goes to JUCONI for hosting the trip and making me so welcome, and to the Consortium for Street Children for making this Resilience learning programme possible.