It's not many time you get the opportunity to go and share your work to peers and also to take the time to learn from their work. I felt so valued and happy with the confidence placed in me to get to represent S.A.L.V.E. and the Building with Bamboo Project at a conference all about Resilience in South Africa.
Planning the presentation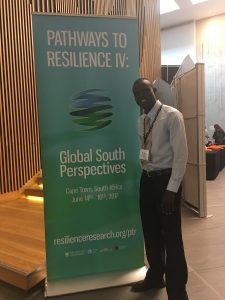 To make a good presentation, you need time to plan for your key messages, evidence, case studies of some milestones and stories to illustrate what you want to present before the audience or people who have shown interest to attend to your topic.
I was one of the presenters during the 'The Pathways to Resilience conference", that was held in Cape Town in South Africa, from the 14/06/2017 to the 17/06/2017.
Our Resilience dream team included: Sian the Resilience project manager, Sarah the former CEO and founder of Juconi, and Helen a researcher working with OAK Foundation.  I arrived Cape Town on the 11/06/2017 so that we had time for preparations for our presentation. To be honest, it was too cold for me because it was my first time to experience winter season.
My topic of presentation was to "Address the challenges and opportunities of developing resilience –informed practice in partnership with street-living children in Jinja, Uganda".
I am a Ugandan by birth, but a funny thing happened that my name was printed on the conference program as 'Alfred Ochaya' from the United Kingdom presenting on the above mentioned topic. I felt good when this name was printed this way because though it was an error typing, I wanted to surprise them by being a Ugandan instead.
Would the power let us down?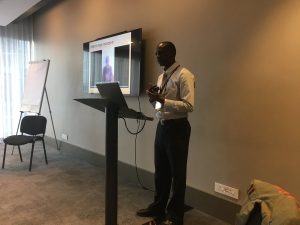 We prepared a very wonderful presentation and what surprised us was that on the day of our presentation we forgot a laptop adaptor to one of the computers that had our presentation but we had some power saved on the computer, we couldn't go back because it was a long way to go back and bring the adaptor. We looked for an alternative adaptor but failed to get, people attending our session included professors, University researchers in Resilience and practitioners working with organisations from all over the world.
Sarah chaired the presentation and we started. Helen did her presentation and we still had some power in the laptop, Sian did her presentation and we were still ok, finally I conducted my presentation and we still had power. Phew. We were so grateful because we presented what we had prepared for and even gave time for the people who attended our session to ask some questions.
What did I present?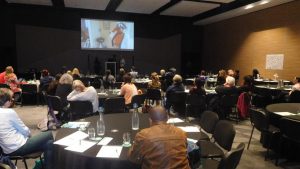 When a child runs to the streets they have the opportunity to meet many different people.
Some of them (peers and community members) will become friends who will strengthen the child and help them to become more resilient. Friendship can be built in many ways i.e. through sports together. Other people may appear friendly but are threats who will abuse and take advantage of the child.
We explore "Obuvumu" with the children in Uganda. To the street-connected children resilience means:
They are capable of overcoming the hard situation on the street.
Have a feeling that bad situations are temporal and not permanent.
They look at role models who have ever passed through street life and exited it. It makes them think that they can make it.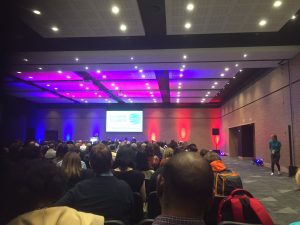 I explained how eating food from dustbins and sniffing Mafuta (aeroplane fuel) are both dangerous and harmful activities to your health. Yet on the streets they can be signs of resilience as some of the coping strategies for children to survive the street life.
One of the reasons for children running to the streets is lack of support and being listened to by their parents. Because there is poor relationship between the parents and the children, so this is both a driver to the street AND this is a big setback to reintegration.
Parents who listen to and learn from their children create a more resilient family unit. If the relationship is established, we'll have more children remaining home after reintegration, and in the face of adversity, they will lean on their parents.
Many people appreciated the way we were exploring Resilience looking at the local understanding of Resilience in Uganda, even breaking it down into easy to understand language, they were so happy with our presentation and learnt a lot from it. They sent their gratitude to the implementing organization S.A.L.V.E International in Uganda, Consortium for Street Children for managing the project and OAK Foundation for funding the work. We anticipate seeing better outcomes for the street-connected children as a result of this project.
My lessons from South Africa
I found the conference so interesting to learn from other organisations and academics as well as get the chance to present. I have so many new ideas to take back to Uganda with me, and I especially liked meeting the team from boingboing as I found their work fascinating because it was focused on youth.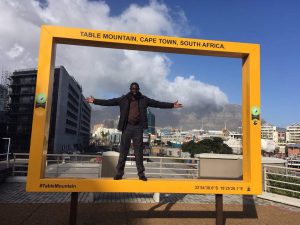 After the conference I got the chance to climb Table Mountain and visit District 6 Museum. It was a chance to reflect on the resilience of the people of South Africa and to see from a distance the island where Nelson Mandela was imprisoned.
"I am fundamentally an optimist. Whether that comes from nature or nurture, I cannot say. Part of being optimistic is keeping one's head pointed toward the sun, one's feet moving forward. There were many dark moments when my faith in humanity was sorely tested, but I would not and could not give myself up to despair. That way lays defeat and death." Nelson Madela (a Resilience Champion for South Africa)