Why not host your very own S.A.L.V.E. shop party? We'll send you a selection of our beautiful hand-crafted products so you can have your friends over, explain the story behind them and sell them on behalf of the women who make them and S.A.L.V.E.
With the majority of the profits going directly to those who have made the products, and the rest donated to furthering S.A.L.V.E's work to reduce the number of children living on the streets in the Jinja district, hosting a S.A.L.V.E. shop party can have a real impact.
It's easy and oh-so-simple
1) If you're interested, email info@salveinternational.org and we can arrange to send you a mixed package of products (you are welcome to request specific items).
2) Invite your friends around for food and drinks and begin the party by explaining the importance of S.A.L.V.E.'s work and the community projects behind the jewellery and the greetings cards.
3) Encourage your friends to buy pieces by allowing them to carefully handle the stock. Since you are the seller they will need to pay you if they wish to buy pieces. For added value why not hold a raffle or ask them for a small donation to attend.
4) Collect, bank and transfer the money made, then post the unsold goods back to S.A.L.V.E. International or hold onto them for your next S.A.L.V.E. event?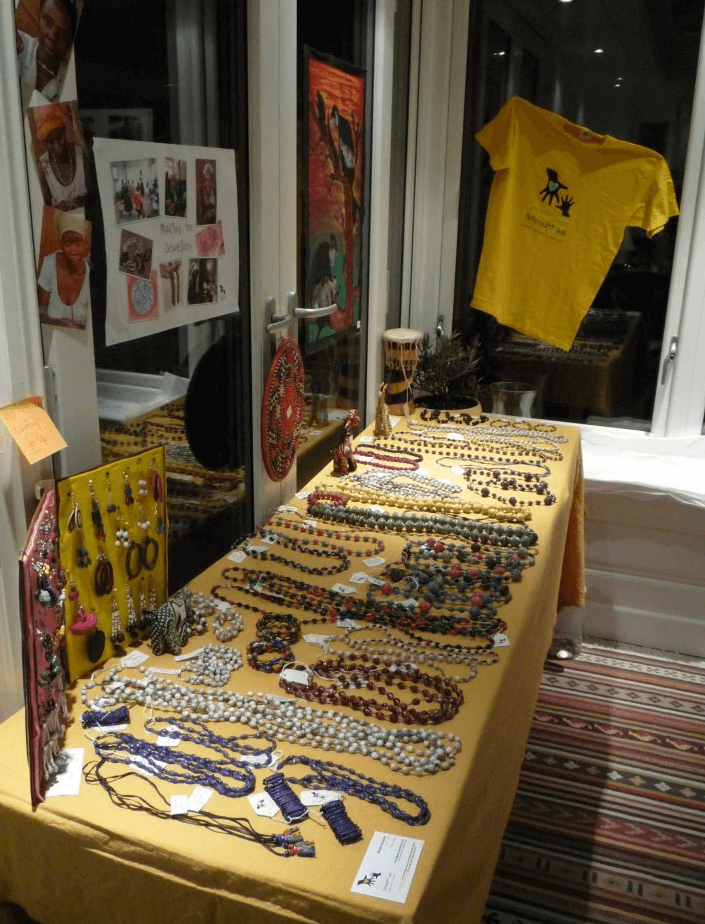 Diane hosted a shop party
Last Christmas I decided to host a shop party for S.A.L.V.E to help them raise some much needed funds. I had been meaning to do something to get to know my neighbours better for some time and this was perfect. I just leafleted the street a week or so beforehand and invited along a few friends for moral support and it all went really well.
I took a bit of time to put up posters and pictures around the place so people could see exactly where their money was going. The jewellery looked really colourful and pretty and most people bought at least one thing as prices weren't too expensive.
I just supplied some drinks and a few nibbly things for people to munch on but most people just had a drink and chatted and looked at the jewellery. Most arrived promptly at 7.30pm so there was a bit of a rush at first getting everyone a drink but I just let them help themselves and it was fun and quite buzzy and I didn't have to do anything except tell people the prices of a few items that I hadn't labelled up in advance. I had a jar of change and people were all very honest and generous. Some people just put in a note and didn't ask for change so I ended up with more than expected. People enjoyed looking at the photos and it was really nice to be able to talk to them about S.A.L.V.E and the amazing work they do.
I made several hundred pounds in the end, which I was well chuffed with. It was fun and easy and everyone enjoyed it including me – so I am definitely going to do it again this year. Lovely way to get to know my neighbours and do something good at the same time.