Hi, this is Mike and Yamima. We have both noticed the talents of one of the boys in our Halfway Home and wanted to share them with you.
At S.A.L.V.E., we believe that all children are a gift and no child is useless. However, some members of the community say that street-connected children are useless and don't deserve to be in the society. I challenge this perception by saying that street connected children have potential and deserve to be given equal opportunities like any other child in the home.
Creativity
It takes inspiration and an open mind and willingness to embrace new ideas for one to be creative. Looking around us, many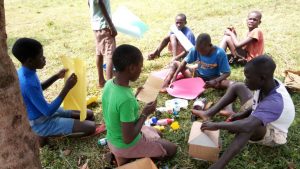 of the things we see, especially rubbish, in our mind is of no use. But for those with a creative mind, everything can be put to use and is of value.
At S.A.L.V.E International we encourage children to develop their talents. We do a lot of arts and crafts as well as dance, drama and sport with the children we work with to help bring out some of these talents.
We recently did an art session with the children in our Halfway Home where we made objects out of boxes. We made cars and houses. This is when we realised amidst the children there were various talents and that we had a potential architect or engineer in the making.
Meet Dennis: Future Architect or engineer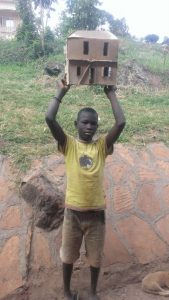 Dennis travelled a long way by foot, truck and taxi in search for family members and Safety from where he was running from. He moved an estimated distance of 1000km before ending up on the streets of Jinja, having no luck in finding anyone.
Dennis lived on the street for two months before being met by one of S.A.L.V.E.'s social workers. He began attending our Drop in Centre and his frequent visits helped him understand the dangers of street life and realise that he was exhausted of street life and needed to find a better belonging. When he was ready, we took him to our Halfway Home for rehabilitation. Whilst at the Halfway home, Dennis has shown a great interest in our arts and crafts sessions.
Dennis loved making houses out of cardboard boxes. When he ran out of resources he would endlessly request for more boxes just to make better houses and improve on what he had made so far. Each day, he would add another feature to his house.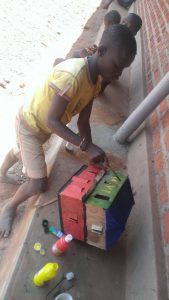 It was amazing to watch him make these houses, seeing the thought and attention to detail going into his work. The houses had everything: doors, bedrooms, windows, corridors, iron sheets and ladders. All the things you would see in a real house. He had even made an effort to paint this house just to add more colour to it.
His attention to detail when making this cardboard house clearly shows his great artistic skills. We are now working with Dennis, the local probation officer and other organisations to try and find a relative that he can stay with, though his situation is very complicated. In the meantime, he knows that he has a safe, loving home away from the streets at the Halfway Home.
We can see that he has so much potential, perhaps to become an engineer or an architect, or perhaps something else completely. But we are sure that if he is given the opportunity to go to school, he will achieve great things.