Being a girl in many of the African countries, where women are not seen as equal can be a challenge. Domestic violence is a common occurrence and some would say that even if you're beaten, you should not fight back. You just have to be there and in most cases even apologise, being made to believe that you are in the wrong. Raised up that way to adulthood, might prepare you for an abusive marriage or male dominated work environment. That is the life for many African woman. But this is a life that many people are now challenging and wanting to change.
Today, I have decided to bring to you a story about a perfect girl
This is a girl, everyone as a parent should feel proud of, so clever, best in class and hardworking out of it. I wish I had a photo of her garden where she planted her vegetables before leaving home to the streets of Jinja. It is amazing.
She is called Jane*. In a talk with her, she narrated to me her story that led her from home to the streets of Jinja. Her mother died of cancer when she was still young. She said the father is alive and is a painter and doesn't earn enough to take care of her. So after the death of the mother, she was given to a rich woman in the village to take care of her. After 2 years, she ran away and got lost from that rich woman. The father made efforts to find her and luckily enough succeeded.
Someone else who thought that the former care taker might have not known well how to handle her took her to his family and started taking care of her, took her to school and she was good. She always got the first position in class. Indeed that was an act which was pleasing. A few months later, she ran away and again back to the streets. A stranger picked her and took her to police and Police referred her to S.A.L.V.E International.
Why would she run away?
But all before, I go on, what do you think could be the problems that made her run away from rich homes or families where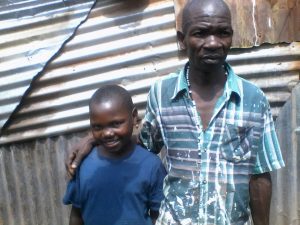 they say she was being given everything she needed? She was clothed, fed, had nice bedding, good school, but still kept on leaving all that in the rich homes to the street. What problem was that?
All children want to go to school, they want good clothes, they want to sleep in soft beds and to eat well but to her, these were not her first priorities, in the long conversation with her, almost all her statements were ending with "I want to stay with only my father" it shook my mind. I told her about the situation of her father about not being able to take good care of her but still her response was, "I want to stay with only my father". I had to accept and made a conclusion in my mind which I thought "she was lacking was a stable parent around her, not the many nice material things around".
In talking to her, she said she wants to live with the father but the father doesn't want to live with her so it makes no meaning for her to go back to the father. She said the people they give her to mistreat her. Look at that fear. That is what sometimes happens happen to our children when we give them out to people.
Happily settled home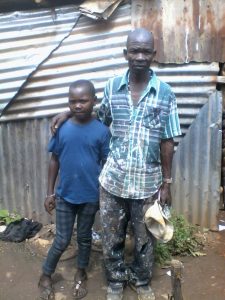 Good enough, we spoke to her, promised her that we shall speak to the father and would find a good way forwards. She accepted and took us to the father and we were happy to meet him. We talked to him and he seemed understanding. He said he wants her child to study that is why he has been trying out to give her out to people who can take her daughter to school. He never knew that his daughter needs him more than the good food. It was a moment of tears of joy and we left them happily reunited. From then on, the father accepted to take on his responsibility as a father and he plans to struggle harder to make sure he can provide his daughter with her needs. Hopefully she will settle home peacefully and get all the love she was missing. We shall keep you updated about the love between her and the dad.
MATERIAL THINGS ARE IMPORTANT TO SURVIVE, BUT LOVE IS ALWAYS IN THE FIRST PLACE ON THE PRIORITY LIST