Many people struggle to find and develop their talents in life.
Athletics is one area where many people have talents. These may be found during school when doing P.E. or outside of school through sports clubs or a love for running.
For many people, who believe they are talented runners, they will challenge themselves to take on a marathon. Marathons are good because they contain people from different communities, countries and societies. Some may have practiced running in the past and for some, this may be their first time to take on such a challenge.
The Masaka run… a marathon like no other marathon
Each year, the Uganda Marathon takes place in the hilly area of Masaka.
This year, Mathew, one of the boy's under S.A.L.V.E.'s educational sponsorship programme took on this gruelling marathon, alongside Yamima, one of our staff. Matthew trained hard for the forty two kilometres run before classes started at school and again after classes. During holidays he trained at the S.A.L.V.E. land, running up and down our big hill to help prepare him for the Masaka hills.
But when he arrived to register for the Marathon, he became nervous after meeting a multitude of people from different countries around the world.  He thought he would not be able to participate well in it.
As one of S.A.L.V.E.'s social workers, I had travelled with Yamima and Matthew to show them support whilst they ran the marathon and to take lots of photos. I took some time and encouraged Matthew to believe in himself and his own strength and abilities. He had been training hard and there was no reason why he couldn't complete the marathon if he put his mind to it. I believed in him!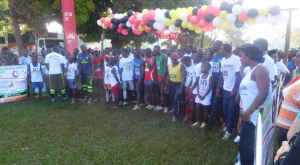 Eventually Matthew took on the advice and he went for it!  He enjoyed the challenge and he was over taking many people. The marathon was done in 2 loops of the same route. He went for the first round and after completing that round, he thought again that he could not go for the second one, already feeling exhausted. I was taking photos and again advised him not to lose hope but continue. He was fearing that he would be the last person to complete out of thousands of participants. He finally went for the second twenty one kilometres and completed the challenge without coming last. In fact, to his surprise, he finished more than an hour and a half before the last participants. This is when he realised he has a talent for running.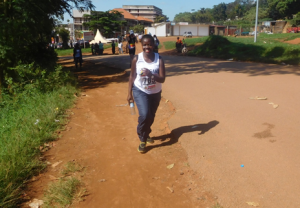 The Uganda Marathon is attended by people from different countries all over the world with a very high competition level. There are three different distances where different people participated and these were; the forty two kilometres, as well as a 20km and 10km option.
A big well done goes to Matthew for believing in himself enough to complete this gruelling marathon in the Ugandan sunshine.
It just goes to show that if you believe in yourself, anything is possible!