My name is Ayikoru Santi. I am a Ugandan born in Arua District and Lugabar by tribe.
I work at the S.A.L.V.E. Halfway Home as one of the Home Assistants. My role is to care for the children being supported by S.A.L.V.E. as they make their way off the streets and back home to their families.
Since beginning work at S.A.L.V.E., I have interacted with children from many different places around Uganda, and even other countries, including Sudan and Kenya.
My role includes cooking for the children, doing some educational lessons with them and supporting them to transition into a family life off of the streets.
Whilst here, they are expected to help by washing their own clothes, helping wash plates and cooking, sweeping the compound, making their beds and help with digging the garden to plant crops. All of these would be expected at a normal Ugandan home and we want to prepare them so that they are ready for home life. When they don't know how to do these things, we help them learn.
What have I learnt?
Through interacting with the children since I came to S.A.L.V.E., I have come to love these children and they have loved me back. They love me because I always have time with them, for example, we can play indoor and outdoor games, read story books, share stories from our lives, play music, dance and create dramas.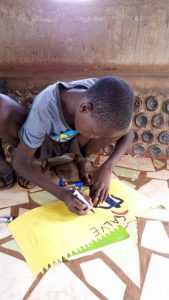 Not only have I helped the children to learn important life skills, but I have also learnt a lot from them. I never knew how children survived on the streets. I learnt about the different works they did and the traumatic situations they have passed through.
Many of the children S.A.L.V.E. works with come from different parts of Uganda and often speak different languages. Through spending time with them, I have been able to learn their languages, for example, I can now speak Lusoga, Luganda and Karamajong.
They have taught me resilience, that you can go through many bad situations and still be standing.
I love my job and being able to give hope to children who have been living on the streets. Thank you for all your support to S.A.L.V.E. to make this possible.