On 28thJuly last year, I was appointed an income generating project research volunteer at S.A.L.V.E. International.
It was a mere idea put on the table, that I took up together with Manchester University team volunteers with whom I felt delighted working with. It was a joyfully tremendous time working on the briquette social enterprise research project.
My background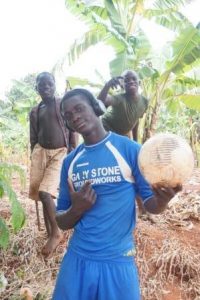 I was born in Jinja city but unfortunately had never had the chance to get to know the children living on the streets. One day during our research project, we spent time at the S.A.L.V.E. Drop in Centre to learn more about how they support the children there.  We went for football with the children, which was so much fun. The football game was so packed with people, that when it was done we moved away from the pitch without me realising that I had dropped my phone.
I was so surprised when these two street-connected kids came running after me calling out '…Uncle…uncle your phone…' it was so touching and shocking how they could pick a phone worth some good money and return it to a person they just met a few minutes back without any hesitation.
This left me speechless and surprised, I would always have expected them to take the phone. I kept reminiscing about this and couldn't find the right way to reward them for their kindness, however much I tried.
Later we were chatting with them about our briquettes project. They they seemed very keen to learn a new skill that would help them in their future and explained that they would love to leave street once they were equipped with some skills to sustain themselves off the street. They were eager to enrol if the project ever got kick started. This left me determined to find a way to get make the briquette project a viable business so that I could thank them with a long lastingly opportunity to get self skills to improve their welfare as well as conserve the environment.
Starting a Briquette Social Enterprise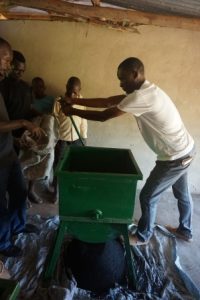 Following our research, we found that a briquette social enterprise was a viable business option for S.A.L.V.E. We have now started a small trial of the business to test it. The environment of Jinja, Uganda, Africa and the world at large alarmingly stands at risk of extinction due to the high prevailing rate of environmentaly unfriendly practices. It will require a lot of sacrifice and effort to rescue it. I looked up to very many entities and personnel to address this but couldn't get an ultimate solution to my expectations.
I realized I had to step out and take responsibility to conserve the environment as much as I could on a personal level. I believe that through sensitizing the communities and advocating for reduction in the amount of firewood and charcoal used as fuel in households and commercial organisations and encouraging them to use Briquettes instead is one way that that we can reduce the damage to the environment.  Briquettes are made from natural organic waste that is carbonised and act as an ultimate replacement of charcoal and firewood which damage the environment more in their creation. Briquettes are also more environmental friendly i.e have less smoke and thus an advantage over firewood and charcoal.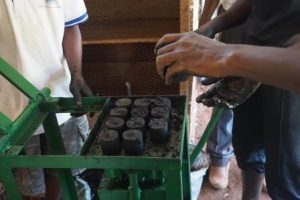 Not only that, but we are able to offer the children undergoing rehabilitation with S.A.LV.E. the opportunity to learn how to make briquettes – a new skill that they could use to earn money themselves when they are back home.
This is my reward to the children on the streets for the good they did for me in returning my phone and a dedication to my Manchester University team colleagues.
This seems impossible yet actually viable, it all started as a mere idea then developed into a plan and now it's a working enterprise. I feel I am now a more responsible person, supporting the planet and the children who are the future of our country. Let's all join hands for the revolution to rescue our environment and change the streets at the same time.
The time is now. The question is are you responsible and willing to join hands with us too?