Hi, my name is Francis and I am one of the home assistants at S.A.L.V.E.'s Drug Rehab Programme.
Jinja is a former industrial town of Uganda. It's former industrial status and boom in business in recent years alongside its popularity as a tourist hotspot has attracted many people that have come along to make the most of these opportunities. With the growing number of businesses and high levels of tourism, it is often a good place for children living or working on the streets to be able to make money.
But what causes children to end up on the streets?
Many people in the community believe that children on the streets are there because they want and choose to be. That they enjoy street life and have no desire to go home or to be in school.
Whilst working at S.A.L.V.E., I have interacted with many children who have been living on the streets. Their stories are very different to what the community believe.
These are some of the reasons that they have shared with me as to why they ended up on the streets of Jinja:
My parents mistreated me by giving me hard work at home and no food.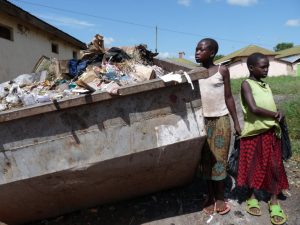 My mother used to beat me so much that I couldn't take it anymore.
We didn't have enough at home
I got lost and don't remember the way home
Both of my parents passed away and I didn't have a home.
My older sibling was mistreating me.
I was going to be exchanged for money by my parents and was mistreated by my relatives where my parents sent me.
I came to street to find a better life.
Where do children living on the streets sleep?
Children who are living on the streets may live in abandoned buildings, cardboard boxes, parks, or on the street itself. However, some children who are also classed as street children do not live on the streets. Some children come from local slum areas to earn money during the day and then return home at night. As most of their time is spent on the streets, they are still classed as street children.
Children who are found on the streets in Jinja town include a mix of children living full time on the streets and children who come to the streets during the day. Some have been abandoned by their families, lost parents to sickness or run away due to mistreatment at home. Others are sent to the streets of Jinja town because of intense family poverty, with hopes that a child will be able to earn money for the family and send it home.
In some cases, disabled children are abandoned by their parents, particularly in villages where there is no support for the family to be able to learn how to care for that child. In addition, there are some refugee children from Uganda's neighbour, South Sudan. In this instance, they tend to have been separated from their families and have no idea where they are now. With no way to find their relatives, they can end up on the streets looking for ways to survive.  S.A.L.V.E. works with all categories of children living on the streets in Jinja.
There are an estimated 1000 children living on the streets in Jinja. They are especially vulnerable to victimisations, exploitation and abuse of their human rights. Not only that, but they are missing out on their childhood and their education.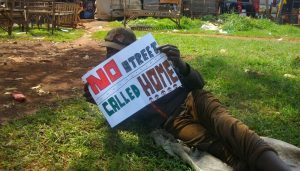 Our dream at S.A.L.V.E. is to one day see that no child has to live or work on the streets of Jinja. We hope to achieve this by rehabilitating them, resettling them with their parents or other loving relatives and working with them and their families to provide educational support and small business start up's.
Together we can make sure that no child has to live or work on the streets. They are the future generation of tomorrow. United we stand, divided we fall.