A simple resolution you can keep all year round to change children's lives…
Join the S.A.L.V.E. Lottery for Change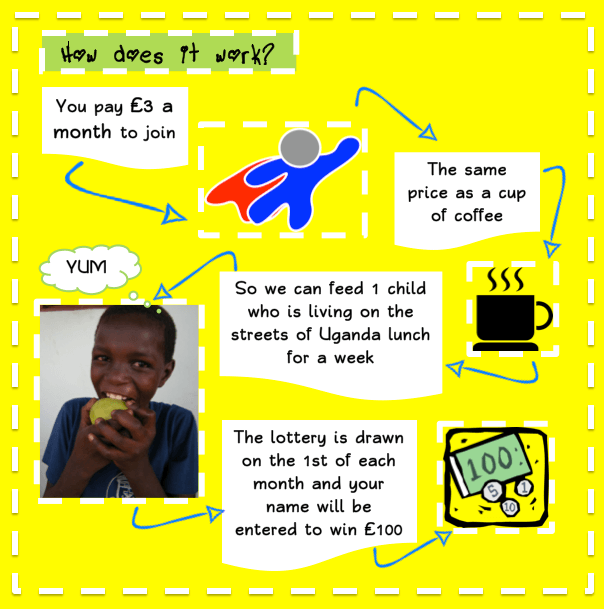 How do I join?
To join the lottery please set up a £3 a month donation through the form below.
Or alternatively, you can set up a standing order directly into our bank account. If you would like to set up a standing order please get in touch with info@salveinternational.org for all the details you need.
To set up a regular donation using the form below:
You need to click the box to assign the donation to a specific fund and then choose Lottery for Change in the Drop down menu.
The tickets cost £3 each per month and you can buy as many as you like (in multiples of £3).
By leaving the reoccurring donation box ticked you will automatically be entered for the lottery draw each month.
Thank you for joining our Lottery for Change and helping us to change children's lives.
Rules:
You must be aged 16 or over to join this lottery.
All tickets cost £3
This lottery is being run by S.A.L.V.E. International in the UK as a small society lottery.
You may purchase as many tickets (at £3 each) as you like and you will be entered into each monthly lottery draw equivalent times to the number of tickets you have.
All tickets purchased will be assigned a number. These numbers will be entered into a random number generator by someone who doesn't have access to the list of names and numbers.
There will be one prize of £100 per month. The draw will take place on 1st of the month. Winners will be notified by email.
You can cancel your lottery membership at any time.
If you win your name/ number will not be entered for the month directly after you enter. But will be placed back into the draw one month later. This is to stop someone from winning for two consecutive months.