Permaculture is a system of permanent agriculture, which encourages you to analyse the land and community around you to make the best use of the resources available. At our five acre site, we have our own demonstration permaculture farm which we use to educate the children staying at our Halfway Homes and Drug Rehabilitation Centre and give them new skills which will help them to be valued and accepted within their family once they are resettled home. We also invite interested members of their family to come and learn skills at our site too, especially if they are or want to run a farm as a business to support themselves. 
We are happy to have been shortlisted for the Permaculture Magazine Prize for our work on Permaculture in 2018, 2019 and 2022.
Our Permaculture farm
In our permaculture demonstration farm, we grow a number of different crops which we use in our delicious meals for the children staying at our Halfway Homes and Drug Rehabilitation Centre.
These crops currently include
matoke (a savoury banana),

beans

mangoes

garlic

herbs

maize

carrots

potatoes

greens

tomatoes

aubergine (or egg plants as they are known in Uganda)

to name but a few.
We also rear animals at our land, namely goats and chickens.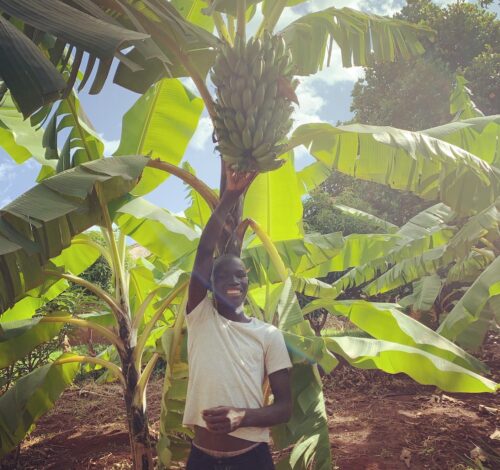 We believe that learning sustainable farming skills are vital for a world with an increasing population and changing climate.
Our farm helps children learn how you have to work together and come up with solutions to different challenges you face along the way. It also teaches the children that they can take action to combat climate change and live more sustainably with the planet.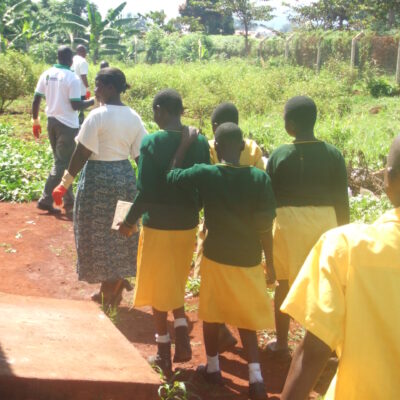 Some of the topics we currently teach include:
     

soil management and improvement

     

companion planting

     

natural pest management

     

how to study and make the most of your available land

     

terracing and A-frames

     

water harvesting

     

waste management and utilisation

     

animal care

     

farm design

the benefits of bamboo
Children who have lived on the streets face long term stigma in their community, where they might be seen as being "spoilt" due to their supposed links with crime and drugs. They might be perceived as a burden to their family and the community around them. Children from both our Halfway Homes and Drug Rehabilitation Centre learn permaculture skills and techniques which they can take home to share with their families once they are resettled; challenging negative viewpoints and helping these children to feel needed at home, helping their long term successful resettlement. We have been able to provide some seeds and tools to the children who are interested to keep using their skills and have land available to them at home to plant them on. We are also teaching the children how to graft fruit trees and they are given their own fruit tree to go home with and care for.
Through our work, we have found that the main reason why children turn to the streets is due to poverty at home. Many of the children who we support ran away from home looking to make money on the streets to be able to earn a little money for food.
Some of the families, whose children ran away to the streets, have land that they own however, don't know how to farm for a number of different reasons. For example, the parent who farmed could have passed away, leaving no knowledge behind on how best to tend to the land, or the family may not have the knowledge on which crops work best within their space; considering soil type and rainfall. If they tried to farm and failed to succeed in the past they might have given up.
Because of this, we are running a Permaculture Business Training Programme; a programme that compliments our Business Empowerment Programme. It is designed specifically for vulnerable, rural families who could better sustain their families with some specialist support and guidance.
Our Permaculture teacher carries out an initial assessment of the family's land aided by the child we have resettled home there. Through group and individualised training, we will guide the family on which crops would be best planted for the most yield; effectively farming the land to its full potential and using the principles of permaculture to work with the land. S.A.L.V.E. will supply some tools and seeds to help the family begin.
By empowering the family to increase their farming outputs, they can then have a more varied diet and save money on purchasing food, thus helping to break the cycle of food poverty that often leads children to turn to the streets. The family will also be able to sell any surplus they may have in the local markets to increase their income, allowing the family to pay for their children's school fees and other needs.
Check out our vegetable orchestra
Take a look at the incredibly talented children supported by S.A.L.V.E. who composed their own song and performed it with their very own vegetable orchestra!
The children wanted to do something different to highlight everything they have been learning about Permaculture sustainable farming (and how fun it can be), so they decided to use our demonstration farm to make a music video.
We would like to thank everyone who has supported our Permaculture work so far. This programme is really helping both the children and their families to learn vital skills that will help them to have enough to eat, both now and in the future.
If you are able to offer help in growing this programme, please get in touch. We would love to hear from you.