This Summer, we are inviting you to host a S.A.L.V.E. Summer Picnic to raise money for S.A.L.V.E. International.
Invite your family, friends, colleagues and neighbours to join you in a picnic where you can eat, drink, play games and socialise, all whilst raising money for a fantastic cause.
If you're having a picnic for children we also have lots of theming ideas to make it a Teddy Bear's picnic, and why not make it inspired by African animals!
The kick-off weekend will be 4 June 2023, but you can host your picnic whenever you like over the Summer.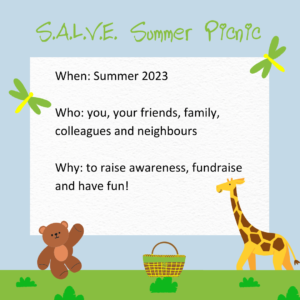 Make sure to send out invitations, which you can download here, and host your friends and family, colleagues, neighbours or anyone else that loves picnics! We have different versions depending on whether you want to email or Whatsapp your invites and all can be tailored to your big day.
Download our pack full of games, quizzes and competitions so that your afternoon will be full of fun activities. Why not ask your guests to bring a minimum donation to attend as even small contributions from your guests to take part will make a huge difference to children in Uganda.
And at the end of your fabulous day, don't forget to send out notes to thank your guests for their support in helping us on our journey for there to be 'No Street Called Home' for children in Uganda.