Briquettes are an environmentally friendly alternative to charcoal.
They are made from waste materials such as charcoal dust, maize stalks and charred vegetable peelings.
We make 2 types of briquettes:
Honeycomb briquettes:
Honeycomb briquettes are large briquettes used in stoves suitable for cooking for larger families or for school/organisation/commercial use.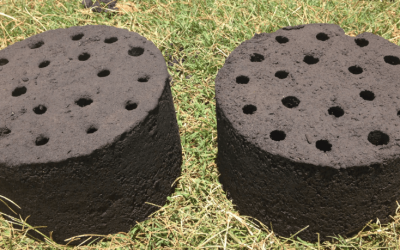 Stick briquettes:
Stick briquettes are smaller in sizes and suitable for use in small stoves for individuals or smaller families.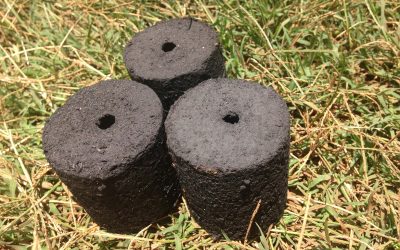 What are the benefits of briquettes?
Briquettes are more environmentally friendly than charcoal or firewood as you don't chop down any trees.
There is less smoke and soot, so they are better for your health as you cook.
They are easy to handle and move.
The honeycomb briquettes burn for up to 5 hours.
Why S.A.L.V.E. Briquettes?
S.A.L.V.E. works with young people living on the streets of Jinja to help them leave the streets, return home to their families and re-enter education.
We have recently begun a specialist Drug Rehabilitation Programme for young people who have become addicted to drugs as a way of coping with their difficult lives on the streets.
We are training the young people undergoing rehabilitation to make briquettes, offering them a new skill that they could use to help them earn a living when they return home to their families.
Additionally, any income generated from the programme will go straight back into our work to help more young people leave the streets.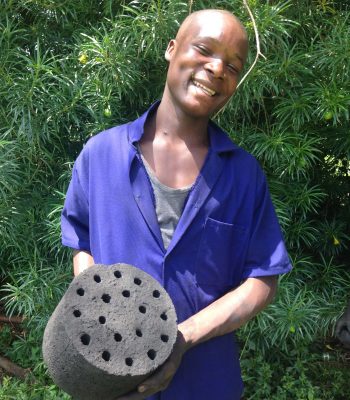 Honeycomb Briquettes
Each honeycomb briquette costs 2,000 UGX.
Stick Briquettes:
1kg of stick Briquettes costs 1,200 UGX.
If you buy more than 10kg, they are 1,000 UGX per kg.
A 25kg sack costs 20,000 UGX
Briquettes require a special stove to be used for cooking. Briquette stoves are made using clay and a metallic casing.
The clay heats up and the stove retains the heat, which means that you can cook on the stove for longer.
Briquette stoves come in a range of sizes and prices and we would be happy to advise you on which size would be most suitable for your needs.
For more information about S.A.L.V.E.'s Briquettes, to arrange a demonstration, or to make an order, please contact Gilbert on 0775 608081 or Moreen on 0784 484487.