There's no such thing as a perfect family with a 100 percent happy child. Our job at S.A.L.V.E. International is to show love and support to children when they need us. We take an imperfect situation and help to smooth out the rough edges the child and family are undergoing in the best way we can.
Divorce and separation of parents are common themes that children are exposed to. Like life and parenthood, there is no instruction manual for divorce. It seems like chaos and high emotions could be around any corner. Through it all, you must plot a path, keep the children on schedule, make sure they get to school on time and transition your routine to accommodate a two home co-parenting situation, keeping emotions in check. We appreciate that this is not always easy.
A case example
We met Bernard* when he was seven years old. He was being mistreated by the stepmother, who would not feed him but instead gave him a lot of heavy work to do at home. He was also made to sleep outside the house. This made him so scared he ran away from home and walked quite a long distance, ending up on the streets of Jinja.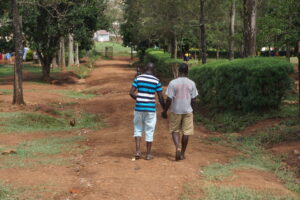 Some well wishers saw him crying on the streets and gave him some small snacks but this was not what he wanted.
He was brought to our Drop in Centre where he was shown care, given a chance to wash and then transitioned to a place of comfort at our Halfway Homes. From there we tried engaging him to find out why he was crying. It was only after some time, and playing some games that he opened up slowly and told his story about a stepmother who was mistreating him.
At S.A.L.V.E. we try our best to see every child has an identity and a sense of belonging which is in a caring home. We tried tracing the relatives of the young boy and were able to find them. We gave them counselling and some of them confessed not caring and mistreating Bernard since the mother had left. The father had not had the time to show him love but after all this counselling with him, the father learnt a lot about his responsibility as a father to his children.
As time went on we were able to give feedback to Bernard about how far we had reached tracing his relatives as well as their positive feelings about him. Bernard was happy about it and so we started preparing him for home and we were able to resettle him back to his father at home. He is happily settled now at home and being treated with love.
Viewing divorce as a change but not a problem
For this reason, I feel there are real opportunities for any parent to demonstrate grace to their children. Grace and grit are ways in which you face some of the toughest moments in life and these are qualities you want your children to have in their tool belt as they grow into smart, beautiful and resilient people. These are defining moments to show your children through your actions and pass on resilient qualities that may help them get through tough times in their lives. However it still remains the parents' responsibility to show the children a better way to cope with life, not letting the children face the difficulties which may affect their growth and daily life.
As a social worker at S.A.L.V.E. working with street connected children, I've never been thrilled about the negative images that tend to be associated with divorce. Instead of labouring over children having a broken family, I encourage parents to frame divorce as a change in the family. That doesn't mean however, that families see their breakup through rose tinted spectacles. When emotions are running high and strong even the most well-intentioned parent can lose sight of just how stressful and confusing divorce can be for children. As a result, I routinely advise parents to think carefully about the beginning steps for them and their children in a new family.
Move forward and learn from mistakes
No matter how much you love them, no matter how skilled you are as a parent you won't be able to take all the hurt away. 
Reach out to people who will listen and support you instead of fanning the flames. Surround yourself with people who love you and your children and can offer a soft place to fall when things get to be too much. Find someone you can turn to for an objective point of view. From time to time, you will need to see a situation through another set of eyes. Be gentle with yourself, no parent gets it right 100% of the time. Try your hardest and keep trying: your children will love you for it.
*names of children are changed in line with our Child Protection Policy