A Bright Beginning
Lynette* was a very bright child, she loved school and was always at the top in class. Her father was a polygamist and had 9 wives and 38 children.
He was a businessman and dealt in coffee and clothes. He was rich and so the children were well looked after in this respect.
His priority was business and he trained all his children to work. Lynette used to go with her dad to sell the clothes in different markets.
Unfortunately, her father never paid school fees for his children and most of them were not formally educated. As Lynette was so bright, the teachers allowed her to attend school for free initially. However, after two years with no fee payment, she was no longer allowed to attend.
Unwanted Proposals
Since she was not in school her father started bringing men for her to marry. She refused on several occasions and even went to her aunt's for help to return to school, but her efforts were fruitless. Her aunt sent her own children to school and left Lynette to do house work. She tried following her cousins to school but was rejected since she could not pay any money. She tried to stay with her aunt but men still came with offers of marriage so she returned to her father.
Eventually, the pressure became too much and, aged just 13, she was married and starting a family. During the relationship, there were many issues and fights and eventually, Lynette's mental health deteriorated. She was taken to a traditional healer where she spent a full year under treatment. When she was well enough, she returned to her father's home.
Raising her Family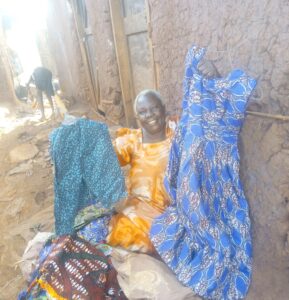 Upon return, her marriage had failed. She had further 10 children at home with different men. Sadly two of her children died and one was lost and has yet to be found.
Despite this Lynette still loved education and worked hard to make sure that she sent her children to school. She started various businesses that failed, but never gave up on life.
She left her father's home and came to the city to see if she could get better options for her children. Her children were helping her to earn money for food and schooling which was very difficult with so many, so sadly some of them ended up on the streets. This is how the team from S.A.L.V.E. International came to meet one of her children and worked with her to go back home and return to school.
Finally Empowered
Lynette was also referred to the S.A.L.V.E. Empowerment Programme for business training and support. Whilst raising her children she had also been looking for opportunities of her own and had enrolled on a tailoring course. S.A.L.V.E helped her start up her own business making and selling dresses and shirts. After two months she graduated and was so excited that aged 68 she finally got to wear a graduation gown. Her 86 year old mother was invited to the ceremony to see what she had missed by not educating Lynette as a child.
After this, she is now doing so well that she has bought two more sewing machines and is now training other girls and women in tailoring. Lynette is really happy and wants to share the skills she has and give other people the opportunity to also have a better life.
* Names have been changed in line with our data protection policy