Joyce* is a mother of six living in one of the suburbs of Jinja town. Her husband fled from the house for unknown reasons and she did not know to do anything that could generate income for herself or family. Many families in Africa believe that children belong to the men so if the husband leaves it can leave the children without any means of survival.
Struggling To Eat and Live
When Joyce's husband left, everything was difficult including getting food, water, salt, clothes and every basic need. Paying rent was a problem and many times the landlord threatened to evict the family. Joyce tried many things to make ends meet like washing peoples' clothes and digging in peoples' gardens, but all this could not enable her take care of her little children well. One of her children Robert* (second eldest) was tired of the landlord's threats to evict them, so to try and help his mother with the rent money he started to go to the streets to collect scrap metal and plastic bottles to sell. Life was very hard, education was no longer seen as a necessity but a luxury and the whole family were suffering from starvation and hunger.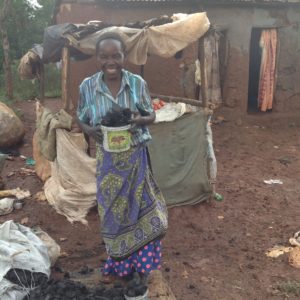 After two years Joyce's son, Robert, became a father with a young girl in the neighbourhood who had been giving him food. He had a daughter with her but, after a long period of moving from hospital to hospital, their child was diagnosed with cerebral palsy. After knowing that her daughter had a disability, the young mother brought her daughter to her mother in law and abandoned her. Joyce now had to take care of a seventh child in her home when she was already struggling with six.
The first year of having her granddaughter in the family was the hardest period in her life and Joyce tried to look for help but could fine none. Robert continued to go to the streets so he could support his family but in the process, he started using drugs to try and forget the challenges that were pushing him to the streets. Eventually, he felt could not go back home and started living on the streets of Jinja full time.
The Story Changes
That is when S.A.L.V.E. International came to know Robert and he was referred to our drug rehabilitation centre. We asked Robert to introduce us to his family so that we could train them on how they can support him better to stop using drugs even after he was resettled at home and change the story of Joyce's family.
We started giving Joyce counselling and parenting classes to help her get her children back on the track – all of them were in danger of becoming drug addicted and running away to the streets. Joyce was gaining some hope for a better future and was ready to start her own business selling charcoal and vegetables. S.A.L.V.E. helped Joyce start up her business and within a few months was making profits and showing serious signs of growth. She has now diversified her business buying used plastic bottles and selling them to the factory for recycling.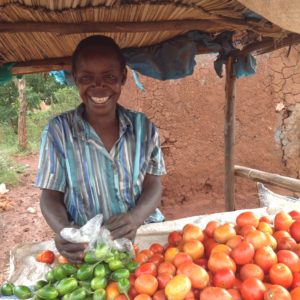 Joyce loves working at her business, is hardworking and is now able to pay her rent and school fees for her children. Joyce has changed the story of her family and children; they were at the verge of going to the streets and becoming drug addicts but are now going to school. Now Joyce is now saving to buy plot of land and build a house for her family and Robert is happily settled home.
I see Joyce as a hero to be so resilient and continue to have hope and courage. Together we have managed to give Joyce the support she needed to re-write the story of her family.
*names have been changed in line with our child protection policy