Evelyn* is a mother of six children. She was happily married and was a stay-at-home mother while her husband worked. Her children were in school and life was normal.
A life-changing event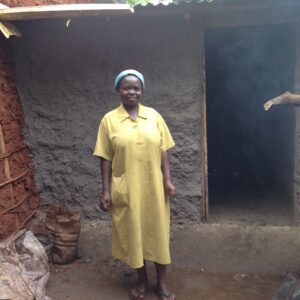 This was until 2013, when her husband was involved in a fight and unfortunately, the other person died. Evelyn's husband was arrested, charged with murder, and has now been in prison for close to seven years. Life changed completely as now Evelyn was left without a job and with six children to care for. It was very hard for her and her children as she had to find ways of feeding them, paying the rent, education fees and all the other aspects of life.
The struggle for money
She started looking for work around her neighborhood, but all she could find was doing laundry for people, and this did not give her enough regular income – she could only earn 5,000 UGX for this (around £1.07). She struggled, but made sure that at least her children had something to eat, even if she had to go hungry. Life was very hard.
Her children started dropping out of school to save her money from school fees, but this gave her a lot of stress as she could not stand seeing her children out of school. She was able to borrow money from a friend, and so was able to try to sell silver fish. She enjoyed this and it was very profitable. She could once again start feeding her children well and paid some of her outstanding rent.
However, Evelyn then had to pay back the borrowed money, and life became hard once more. She hadn't budgeted for the loan repayments alongside her business and household needs, so the business collapsed.
As she found herself struggling to feed her children, some of her daughters started going on the streets and began attending the S.A.L.V.E. Girl's Centre. From this, she was recommended to us for assessment to see if she could join our Single Mothers Programme. She was assessed and was among the members that were selected for the programme. We could see she had the business talent and the drive to succeed with the right training and support to help her.
Life after the programme
She was invited to attend the single mothers business training, and Evelyn started feeling more positive about her and her childrens' future. After the initial training and with the start-up fees provided by S.A.L.V.E. she started up her business. She started a silver fish business as she had previously found this profitable and enjoyable and now had a better idea how to manage the cashflow. The business has been successful even during lockdown, and so she is still able to work and take care of her family amidst all the challenges that the lockdown has caused.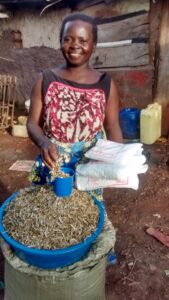 She is very thankful that S.A.L.V.E found her and included her in the Single Mothers Programme. Evelyn told us that this has helped her so much, as without it she does not know how she would have taken care of her children in lockdown. She is now praying for the lockdown to be fully lifted so that the business can flourish, and she can earn enough to send her children back to school. She now sees a bright future ahead for her and her children.
*Names have been changed in line with our child protection policy
This was made possible thanks to the generous donations given to support our Big Give Christmas Campaign in 2019 to start a special business programme for single mothers. Thank you to everyone who has contributed to make this possible.