Joyce* grew up in a large family of many children where her father had more than one wife. She studied until only primary two and her father stopped her because there were no school fees and preferred to send the boys to school. He believed that girls will grow up and get married so why send them to school anyway.
A young bride
At the age of 14 years she was married off to a man and started giving birth to children. She was considered to be an adult and she had to leave her father's house. Joyce didn't resist the marriage as it was the only future she had known after being taken out of school, despite being a child of only 14 and sent to live with a stranger.
Her husband started behaving strangely as soon as she gave birth to her second child. He started sleeping out of home for weeks without information about his whereabouts, sleeping with other women, then bringing the children born to these other women home without explanation to her, expecting her to care for them.
Despite this she did not leave her husband's home because she did not have a place to run to or take her own children to. Joyce also feared to leave them with this irresponsible father of theirs, so she endured all the mistreatment from her husband in order to take care of her children as well as the other step children that her husband was bring home. She had eight children herself and her husband brought in four more.
Alfred's story
Despite the challenges of a large family for a while all was well with Joyce and life was settled. One day however one of the step children, Alfred*, decided to move out of home to go and trace for his biological mum in hope of a better life with his mum than his father. When the boy reached at his mum's place she couldn't house or provide for him so she requested him to go back to his father's home.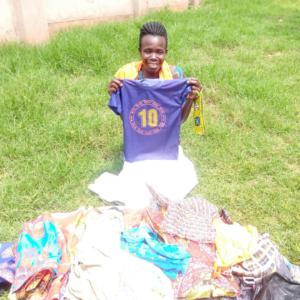 Alfred was worried of what he was going to go through when he goes back to the father's home as he did not get permission in the first place when he was going to the mother and he feared to be punished. With this in mind he decided going to the streets was better than returning home.
While on the streets of Jinja, the S.A.L.V.E. Street Outreach team met Alfred and started talking to him about going back home. After a while he agreed and was referred to the boys Halfway Home. He was later resettled back home and his step mother Joyce was very happy and willing to take him back: to her he was her child as she had raised him since he was very young.
A fresh start
After Alfred's resettlement the family was referred for the Family Business Empowerment program. By this time Joyce's husband had left home and had married another woman in a different part of the country.
With S.A.L.V.E.'s help Joyce started a clothing business. Her business helped her to run her home well without worries and also to make some savings. She started buying some chickens, then goats, and her target was getting a cow which would provide milk for home.
Her ex-husband eventually also supported Joyce's endeavours once he saw how committed she was and gave her some money to help her buy a cow.
Joyce is now looking forward to making more savings and improving her family's wellbeing, even expanding her property and buying more land for her children. Alfred is settled back home with Joyce and his step brothers and sisters and the whole family are grateful for S.A.L.V.E.'s support.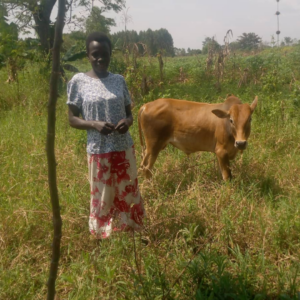 *names are changed in line with our Data Protection Policy