My name is Joshua and I work with S.A.L.V.E. International as a permaculture teacher. One evening my manager told me the good news that I would go on a permaculture training tour trip to an organisation called Help Change Lives that is based in Kenya. 
I was to spend a week there, training families how to make the change from buying food to growing their own through the permaculture programme. It does not matter whether you have a large piece of land or a small one, you are shown how to use it to grow crops. Even for those living in towns it is possible to grow crops, especially vegetables like spinach, dodo (a grain), sikuma wiki (collard greens) and carrots. You can use sack gardens as a way of increasing family income as well as following a nutritious and balanced diet.
Those with a lot of land can do agroforestry, which includes growing crops, rearing animals and planting pasture and fruit trees on the same piece of land as it helps to conserve the environment and combat climate change.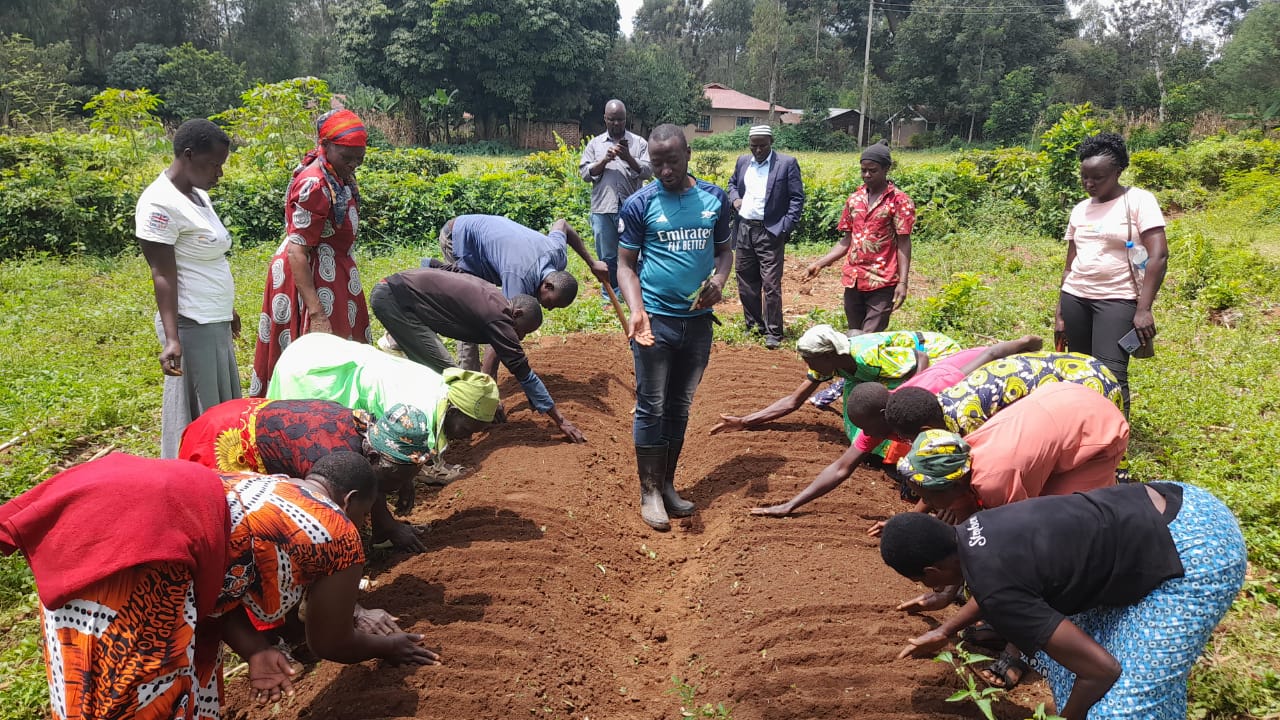 Teaching families about permaculture
When I arrived in Kenya I was welcomed by a happy and lovely team. 
There were five groups of families to be trained on independent days. Monday morning was the first day of the training and we met 16 families. Among them was a disabled old woman who never did the gardening, but was living with a boy who she had adopted from the street when his mother abandoned him. She adopted him and started to care for him and bottle feed him until he grew up. When he was old enough to go to school, she started paying his school fees until she got aid from a charity called Help Change Lives that started to help with food, school fees and other school requirements. The woman was very happy that we came to her home to provide training on sack gardening as she was living in a town so only had a small piece of land. There she had grown some maize and reared a calf, which provided manure to put in her garden.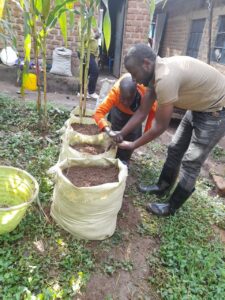 Due to her age and disability, she said that most people had written her off as having less impact on the development of the community. She encouraged us to continue our work. I taught her how to profitably utilise the small amount of land she had by growing valuable crops like spinach and sikuma wiki rather than maize which she can buy cheaply, and selling the vegetables which are in high demand in her community  as other families don't grow them. After the training and setting up some sack garden samples with her, she promised to get some people together to help her with her child  and produce more.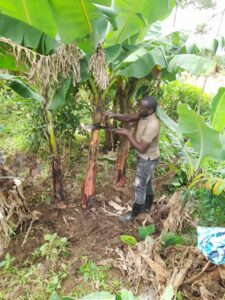 We went into another group which was composed of 12 families, who grew maize as their main source of food and income. I trained them how to intercrop maize and beans to improve the soil fertility as their soils were infertile due to over use of synthetic fertilizers. They were encouraged to use organic manure and crop waste as fertiliser instead of burning it. We also built a nursery and beds  for all different types of seeds. This makes it an easy garden to manage and it can be given particular care by watering it and using manure to make crops grow quickly and have a high yield. It's even very easy to do the other agronomic practices like weeding, thinning and harvesting. The measurements of the beds should be 1m wide and can be any length, depending on the number of seeds to be planted.
The third group was made up of 15 families. They also relied on maize and had a few banana trees. They had issues with the bananas for a long time, such as bacterial wilt, small yields of matooke and banana weevils. They were taught how to overcome all those challenges by pruning, removing the male bud that attracts the bees that spread the disease, and using animal urine to control the banana weevils that destroy the roots. They were also taught the best way of de-suckering, which helps to avoid overcrowding and ensures the trees get more nutrients. We also built some compost bins to be used for waste management as decomposed plants can be used as manure.
The fourth group was made up of 10 families. They were trained on how to grow cabbages, carrots, amaranth, spinach and sikuma wiki. They also practised ways to control pests and disease on root crops by using animal urine and wood ash to kill aphids, caterpillars and moles on sweet potato plants. 
The last group was made up of 14 families who reared animals and grew annual and perennial crops, such as sugar cane and bananas. They already carried out agroforestry but were using heavy feeders such as eucalyptus trees, which are not recommended.  We advised them to grow fruit trees like mangoes, avocado and oranges as they can be used as food source and help to protect the environment. With regards to animals, they were advised on proper feeding and how to prepare liquid manure to be used on the vegetables to get good yields and improve the soil fertility. 
Altogether, I managed to train 67 families in nursery and seed bed preparation, proper seed planting and spacing, all agronomic practices in crop production and pest and disease control. 
A rewarding experience
All the families were very happy at the end of every training and thanked S.A.L.V.E. for partnering with Help Change Lives and for what it has done for them. No other organisation has ever done a training about modern farming (permaculture) with them and they promised to practice all the skills that they acquired to improve their lives and to fight against hunger and poverty. They also requested to have more of this training whenever possible for them and the youths living in their communities. 
A huge thanks goes to the whole team; to Aunt Nicola for the work she is doing to change the lives of people in different communities through permaculture business training; to Pallvee at Help Change Lives for agreeing to partner with S.A.L.V.E. as she fights food insecurity in Kenya; to Uncle Alfred and Aunt Moreen, the community department managers, for allowing me to go and represent the organisation by teaching families about permaculture in Kenya and, finally, the whole community for the tireless efforts they invested in the preparation of the journey.