School can cause anxiety for children in lots of ways; exams, performance tests and school leadership contests. Will your parents be able to afford all your fees and requirements?
There is one other time of the school calendar that makes students nervous which we don't think about: visitation days! These happen at boarding schools when family members or friends get a chance to visit the pupils.
We can see this anticipation by the eager students at the school gate, waiting to see someone they know. Many students don't get the chance to have someone checking on them to see how they're doing in school.
Moses'* first visitation day
The night before that day is usually sleepless. For one of these students, Moses, his first visitation day was full of unknowns. Moses had recently moved to boarding school with the help of educational sponsorship from S.A.L.V.E. International. His parents were living very far from the school and he was unsure if anyone would be able to visit.
Moses did his morning chores and went straight to the school gate to join his fellow students, but he was not expecting anyone to show up. Many parents showed up with lots of edible delicacies, others were busy giving their children parental advice (and reprimanding them when it was necessary!). Moses felt envious as girls and boys met with their parents, and he gave up expecting anyone.
Talking with Auntie
Later that afternoon, a S.A.L.V.E. International staff member rushed to the school after being delayed by some morning commitments. Moses had not known this "Auntie" very well since he had seen her only once at S.A.L.V.E.'s Drop in Centre. He did, however, recognise her and ran to meet her with excitement.
He spent that evening with his "Auntie" talking about his challenges and successes since joining the school. He also received valuable advice and counselling on the issues he had been facing.
At the end of the visit, Moses received a package of biscuits and sweet drinks along with some scholastic materials that he was missing. He was so pleased and promised to work even harder at his studies. 
The benefits of support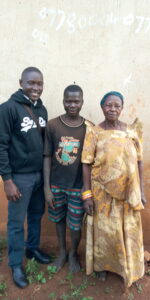 Children need support after going to school, both in academic and personal ways. Many parents leave their children at school without following up on how they're doing. This can bring about discouragement among children and they can end up with poor results or even dropping out of school as they feel unloved.
S.A.L.V.E. International supports children with education sponsorship as well as offering extra advice and counselling. This support can help to nurture children who lived on streets into self confident individuals that can support themselves as well as their families.
Please help support children like Moses by providing them with the opportunity of an education. Visit our sponsorship pages to learn more.
*Names have been changed in line with our child protection policy.