A broken family
Growing up with step-parents can be hard if there is contention between the parents.
Jonah's* story starts when he got separated from his biological mother. His father was unable to take care of his family well because he didn't earn much money. The situation got worse when Jonah's mother, who already had two children with her husband, found out that he was having an extra-marital affair and left him.
Jonah's mother had no source of income and was in despair. She decided to abandon the boy without telling anyone because she could not take it anymore. One cold day, a neighbour heard a small child crying desperately. The neighbour found the two-year-old boy crying helplessly.
She decided to look for help but there was no one at home. The local area council were notified and they found the closest relative; Jonah's very old and disabled grandmother.
The grandmother is a well known and respected person in the village due to her old age and good welcoming heart but she is totally unable to walk and can only crawl on the floor. This does not hold her back from being industrious and hard-working. She decided to take on responsibility for Jonah with all her strength. Though everyone around was worried about her, she was not concerned at all and was very courageous. Jonah's mother didn't get in touch for three years. She never came back for her son even after she knew he was now living with his grandmother, her mother.
Jonah survived this childhood and later grew up into a wise and productive lad who became his gran's delight.
Jonah loses his way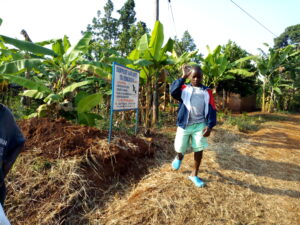 Jonah was naturally curious about everything and as he grew older he started attending a nearby cult church where he found many new friends. Jonah started taking long walks with his new friends and would spend many hours and some nights away. This started worrying his granny so much that she decided to visit the church one day. The boy had not been back home for two days. To her horror, Jonah was not at the church that day! She was told that he had gone to a "camp" somewhere in a nearby city.
After a lengthy search over some months, Jonah was understood to be living on the streets and getting used to it. The group he had travelled with was so uncaring that none of them saw him again after reaching the city.
Jonah spent his time eating from the bins and sleeping in the fish market at night. One night he was arrested and taken to the juvenile section of the police station where he spent two more nights.
S.A.L.V.E. steps in
Jonah was rescued by a S.A.L.V.E. International staff member who was contacted by the police because they understood that S.A.L.V.E. works with homeless children.
Jonah was admitted to our Halfway Home and after counselling and care, was introduced to the idea of being resettled home to his family. He was positive about it and excited to meet his grandmother again after so long.
Back home, the grandmother was astonished because she had always feared that the boy had died. She cried tears of joy and thanked the staff members of S.A.L.V.E. who carried out the resettlement.
Jonah is now happy and well settled at home. The cult is said to have relocated to another place and he has anyway settled his mind not to believe everything others tell him is true. He is now hoping to re-join school.
S.A.L.V.E. has helped save a lot of vulnerable children from oppression and is still doing so. Join hands with us so that we can continue helping out. Many children are still in an impoverished and uncared for state causing their lives to be deeply miserable. We can change their lives and help to guide them to a better future through education to success.
*names have been changed in line with our child protection policy