Education is at the heart of S.A.L.V.E.'s work. As well as striving to get children off the streets and back into education in Uganda, we want to help people all over the world understand the issue of children living on the street.
Children living on the street are often ignored, silenced and abused but with your help we can equip more people with the knowledge they need to help fight for a better future for children everywhere.
That's why we've launched our Education Hub filled with free teaching resources, classroom tools and schools activity packs and we'd love for you and your school to get involved! These packs are written with the UK curriculum in mind but can be adapted and used all over the world.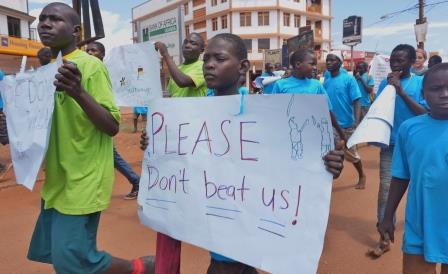 Free Teaching Resources
Our free teaching resources are designed to help teachers explore important issues including children's rights, global inequality and life on the streets with the next generation of learners. They provide structured, in-depth lesson plans with accompanying PowerPoints. Informative and engaging, they aim to empower young people to engage critically with an important global issue while inspiring them to contribute to a fair and just world.
S.A.L.V.E.'s Teaching Resources and the Curriculum
All our free resources have been researched and designed with the appropriate curriculum firmly in mind. Learning about children living on the streets directly ties into many subject specific curriculum objectives, but, through the range of activities involved, these resources also give pupils the opportunity to develop important cross-curricular skills in speaking, listening and writing. At the same time, learners are encouraged to investigate, debate and critically evaluate key questions relating to life on the streets and children's rights and in doing so enhance vital educational and life skills.
Bringing children an awareness of other countries and ways of life, we hope that these resources will also give young people the belief that they can help others and really make a difference in their world.
Please get in contact if you have any comments or suggestions for ways we can improve or add to our free resource bank, or if you would like to volunteer your time to create more resources for us: info@salveinternational.org