Each street has its own story. The following story about S.A.L.V.E. International illustrates how we share voices of children who are often invisible. We also show the great humanitarian support work that the organisation is carrying out to help these children on the streets; the majority of them in various precarious conditions.
Although there are differences in each case, most of the stories have a common theme that show poor family situations and experiences of poverty. There are initial differences in the first contact with S.A.L.V.E. and the children's ability to accept help. For example, we carry out regular street walks around Jinja town and we first meet a lot of the children we support on the walks. We first meet other children when their friends tell them about our Drop in Centre where they can receive a meal, bathe and learn. The children often describe the reason for their situation in an honest way and often blame society for where they have ended up.
Carla's story…

That is where the story of Carla comes from. Carla used to spend her days begging in the centre of Jinja. Her father brought Carla and her brothers to the city centre to beg. He staged her close and controlled them. She didn't do the activities that other normal children usually do such as playing. Carla knew that there was a place called a school, but she missed school most of the time.
Carla's father had lost their mother whom he missed very much and Carla knew that other children had their family and went to school every day. Instead of this, she passed by school every day to get to her 'workplace' in the street. She felt the raindrops, the heat of the sun and even the wind blow. She had to suffer on the streets to survive.
Meeting S.A.L.V.E.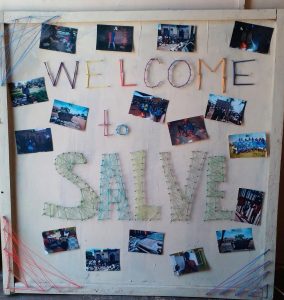 When Carla met S.A.L.V.E., she was begging on the streets. The first thing she remembered is that they asked her for her name. She lied and said another name because she felt a bit frightened. No-one had spoken to her other than to give her some small change and she was unsure how to act.
But we came to her frequently and she realised that S.A.L.V.E. were trustworthy and they believed that all children should have the same rights. She felt that we were interested in helping her and affectionate to her. She began to like and trust us. Once we gradually built up that relationship with Carla, she began coming to our Drop in Centre where she got to know us more and talk with the other children who regularly came for food and education. She loved the atmosphere of the Drop in Centre; she loved learning and laughing with the other children.
After some time, it was decided that we would go with Carla to speak to her father and discuss with him the dangers of being alone on the streets, especially for a girl child.
Resettling Carla home to her family
We went with Carla to where her father stays. She was afraid that he could be angry with her and punish her. Once we arrived, we introduced ourselves and instead of being angry, her father listened with attention. He appreciated that S.A.L.V.E. wanted to help her to have a better life away from the streets. Her father explained that the kind of life he was involving his children in was the only way he had found to support his family. He did not want this life for his children and he listened to us on how we could help and support him.
Carla's father did not make enough money to send Carla to school, only enough to feed her and so we decided to enrol Carla in our Educational Sponsorship Programme to make sure she could go back to school. S.A.L.V.E. supported her father through our Business Empowerment Programme. He is now running his small business and able to provide a safe shelter for his family. Together, they are so happy for our support. Their family is now living a better life – a life filled with opportunity.
Please consider sponsoring a child with S.A.L.V.E. if you are able to. it makes such a difference to a child's life and aspirations.