John* is now 16yrs old. His mother died during childbirth where she was operated on during labour, but unfortunately only John survived.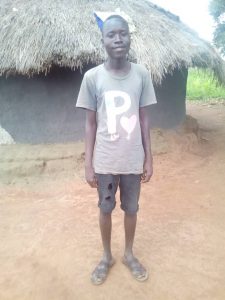 He also never had opportunity to see his father because the father separated from the mother when John was still in the mother's womb.
At the age of 5 years, John's grandmother could not afford to provide for him all the basic needs, like food and medicine, because she had many grandchildren. Instead he was taken to Kampala to be cared for by his uncle who lives there. He lived there for 5 years, but sadly in time the uncle's wife started mistreating him. She couldn't give him food whenever his uncle wasn't at home. His uncle was an army man and there were times when he was taken to fight in a war and when he took a long to come back home.
Because of the rejection by his uncle's wife, John decided to go on the streets to fend for himself. S.A.L.V.E. staff met him on the streets of Jinja and referred him to come to the S.A.L.V.E. Drop In Centre so that they could plan with John the best way to help him leave the street.
Building trust to leave the streets
He attended the S.A.L.V.E. Drop In Centre for 2 months to build enough trust, and thereafter he was referred to the S.A.L.V.E. Halfway Home for rehabilitation. He was a well-disciplined boy whilst at the rehabilitation centre and participated in the 2019 Manchester University children's holiday camp which he really enjoyed. He was too humble and an obedient child.
During the children's holiday camp, he was counseled and prepared to go home. After the camp, he was ready and hence we resettled him home in the northern part of Uganda where we met his grandmother.
Going home
"I am so happy to see my grandson home, I hadn't seen him for long, I love him so much. I am glad he is back home as I took care of him from the time his mother passed on. He reminds me of his mother whenever I see him."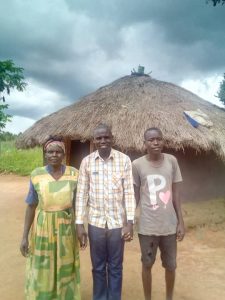 The grandmother asked S.A.L.V.E. staff, "who are you and what do you do", the staff replied that "I work for S.A.L.V.E., an organisation that reduces the number of children on the streets by reuniting them with their families." John's grandmother was surprised that he had been living on the street and that he had not been cared for properly by his uncle's wife.
The staff continued shared during family counseling that John's best interest was to come back home and stay with the grandmother and that is why he was brought back home.
Since he was reunited with his grandmother, John has settled well and helps her with doing domestic chores and farming. He has promised to stay at home until he gets an opportunity to go back to school. John is passionate to return to school and be able to help himself and his family in the future. He loves football and dreams of becoming an engineer or a mechanic. John is lucky that one of the volunteers who met him during the holiday camp has decided to sponsor him and help him to return to school since his grandmother cannot afford to pay his school fees.
Get involved
If you are interested in joining our S.A.L.V.E. family as a sponsor and helping a child like John get his or her chance to have a brighter future through education then please click here to find out more.
* John's name was changed in this public forum in line with our child protection policy.