I have recently started my job at S.A.L.V.E. as the Project Officer and spent the first month of my new job in Uganda! It's not every day that you get to start your new job in a different country, never mind continent!
There was a particular day that I really enjoyed whilst learning the ropes and that was a visit to a small village, about two hours away from Jinja. Enock, our Permaculture Teacher, had planned a visit to a family whose son had recently been resettled from the streets back into their family home. However, the family was identified as being vulnerable and the child at risk of returning to the streets due to poverty at home; namely, lack of food and no money for school fees. This is where S.A.L.V.E.'s new Permaculture Training Programme comes in; equipping the family with tools, seeds and sustainable farming knowledge to be able to get more out of their own land. This will ensure they can produce enough food for their family to eat and, hopefully, some surplus to sell at the local markets. Enock was kind enough to invite me along on his visit.
An embarrassing end to a long journey…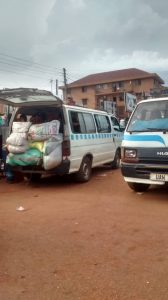 So, Enock and I set off. It was a very hot day and our first mode of transport was a matutu. I had never been on a matutu before and relied totally on Enock to make sure we were getting the right one! After a cramped ride and a chat with a local business man about the (hot!) weather, we had arrived. The village was still some time away and so, our next journey was by car (group taxi). In Uganda, matutus and cars don't move until they are full so you never know how long your journey is going to take! Once we arrived, I thought, 'finally, we are here' however, Enock had some news…we still had a boda boda (motorbike) ride until we reached the village. After 45 minutes on the boda boda, we arrived at the family's home; carrying the tools and seeds they needed to begin and all of the educational resources Enock needed to facilitate his workshop.
When I got off the boda boda, I had some grins and laughs from the family members. I was unsure what people found funny and then Enock told me that I may want to wipe my face… my face had turned orange from the dust from our boda ride and it was not a good look (everyone in Uganda is always so smart). Scared to look in the mirror of the boda, I laughed it off and quickly reached for my tissues. Great start! The team was disappointed they didn't get to see a photo…
Permaculture in the community
Before joining S.A.L.V.E., permaculture was something I hadn't come across before but I wanted to learn more, especially because it can be a great tool for families to lift themselves out of poverty. The workshop (in Luganda) pulled the whole family in, and even some neighbours who were interested in what Enock had to say.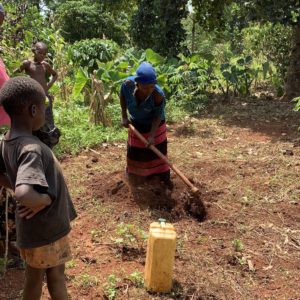 The mother of the family told us that she had some land of her own however, after her husband died, she didn't know what to do as she did not have the knowledge and once he passed away, the land was left idle.
After the workshop, the family led us to their land and we began implementing the ideas from Enock's class; raised beds for growing crops, deciding which seeds to plant for the ideal conditions of the soil and rainfall and trying out the tools. Once we had finished, the children climbed the tree and treated me to my first ever Jackfruit! It was delicious and a very kind gesture from the family.
The child who had run away to the streets was able to utilise the knowledge he had learned whilst he was staying at the S.A.L.V.E. land. He was taught about sustainable farming and how it all works. He was then able to help his mother with the preparation of the land and the sowing of the seeds. Often, children who have returned home from the streets are stigmatised as 'spoilt' but the fact that this child brought home skills and knowledge meant he could stand up to those unfair attitudes within the community and support his mother in this learning process.
Addressing the root causes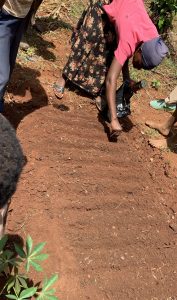 This day was a particular favourite of mine because of what it represented; S.A.L.V.E. digs deeper and addresses the root causes of why children end up on the streets. We need to know what their family life is like and what their reasons were for making such an extreme decision to run away from home. Many of the children who end up on the streets of Jinja are from families like this one; families who live in small rural villages who are struggling to support their children. Sometimes, these families have some land which they can utilise and the S.A.L.V.E. Permaculture Training Programme is designed to support these families; through sharing knowledge, resources and tools, they can break the cycle and keep their children at home, safe from the dangers of the streets.
It was a great experience to see, in action, the difference S.A.L.V.E. is making to many families like this one and Enock was a great help – translating for me and helping me pronounce my limited Luganda phrases! I had a great day and a long shower when I got back to the guesthouse…