Godfrey* was born into a poor family. His mother was a single parent and struggled to make ends meet, renting a small room in a village for him and his siblings, doing odd jobs and work to survive.
Like other children Godfrey wanted to go to school but he understood that his mother couldn't afford the school fees. She was already struggling to pay for rent and food.
When Godfrey was 5 his mother fell sick. They took her to hospital where the doctor demanded money for her treatment. Godfrey's mother gave what she had but it was not enough to cover her medical bills.
Godfrey went into the town and tried to raise some money by helping people with odd jobs. With the little he earned he rushed back to hospital where his mother was admitted.
Sadly when he got back to the hospital his mother had died of heart failure. It was Godfrey that found her this way. He was only 5 and was all alone with no parents and a life on the streets as his only option.
Struggling on the streets
When he got to the streets Godfrey tried to earn money for food by helping people with jobs around the city. At night the boys who had lived on the streets longer turned on him, demanding money for joining them in the streets. When he had a little money they stole it, and when he had small items like a sheet for sleeping they stole that too. When he didn't have anything they beat him.
He was also beaten by police and security guards who called him a thief, street kid and told him to go away.
Godfrey felt very alone and he missed his mother deeply. He was on the streets for a long time.
Meeting S.A.L.V.E.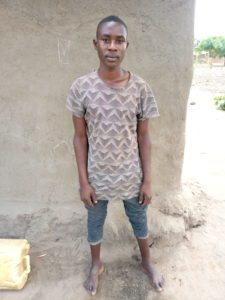 One day when Godfrey was trying to earn some money on the streets he met one of the S.A.L.V.E. street outreach team. Our team member took Godfrey back to our Drop-In Centre in Jinja town and encouraged him to regularly attend our programmes. From there, as he gained trust, Godfrey went to our Halfway Home where he has been supported, cared for and shown much love.
Godfrey is now very happy, settled back with his aunty and wants to join education. He wants to become a doctor as he wants to help to save lives – so that no child should suffer the way he suffered in losing his dear mother.
Could you help to spread hope and become an educational sponsor and help a child like Godfrey make his dreams come true?
* Children's names have been changed in line with our child protection policy