This is the story of John
John is 11 years old. He began living on the streets after some misunderstandings with his mother. At first, he found himself sleeping in sugarcane plantations, in local neighbourhoods and in people's kitchens, close to his home.
But after a while, he joined a group of friends and they travelled towards Jinja. It took them two days, walking along the highway to reach the city. It was here that the S.A.L.V.E. team met John, during one of their regular street walks.
Since Uganda was still in lockdown, and sleeping on the streets was even more dangerous due to the curfew in place, our Street Outreach social workers took John straight to our Emergency Centre where they were able to get to know him and find out more about his home situation. He was really engaged in counselling, classes and helping with chores around the centre. John did so well and eventually agreed to be home traced to his family.
A celebration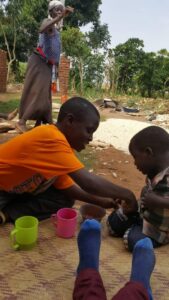 When we arrived at John's village, there was a huge applause from the whole community. Community leaders, parents, neighbours, siblings… everyone was so happy to see John back home, safe and sound.
He got the nickname of "King Love", which signifies the love for seeing him return home after all the time he'd spent on the streets. In response, John said there's "no street called home".
At S.A.L.V.E. International, we strive to support children living and working on the streets of Jinja. We really do wish for 'no street called home', and these stories are what drive us to keep going.