Sending sunshine
I am writing this month's newsletter from a very sunny Uganda and it feels like I'm home once again! For anyone who has been to or is living in Uganda, you will know that it is a place of such natural beauty, such vibrant culture and some of the friendliest people you could meet.
I feel very honoured to be part of the community that we have built as S.A.L.V.E. and I wish each and every one of you could come and see the work that we are doing first hand.
Of course, we are currently offering you this chance! We still have the last few places for our Mount Elgon trip in January available. This will be an epic 6 day hike with the chance to meet some of the children and our amazing team in Uganda. If you are interested, please let me know. This will be a once in a lifetime experience and I would love to show you the work we do at S.A.L.V.E. in person. Sign ups close at the end of November, so please get in touch ASAP if you are interested in joining us.
For those who can't make it to Uganda quite yet, read on to learn about one of the inspirational women I have met recently, watch our latest video to see the S.A.L.V.E. site for yourselves and show your support for S.A.L.V.E. with one of our many ways to get involved.
Please also keep an eye out for my next email about our Big Give Christmas campaign that will be coming at the end of this month. Between 29th November – 6th December any donation you make via this campaign (up to £8,000) will be doubled, so we can make twice the impact together.
Your support enables us to make a big difference to the lives of street connected children and we couldn't do any of this without you. Thank you.
Festive fundraising
Dare we say it…. but Christmas is next month! 🎅🤶 Here at S.A.L.V.E. we love getting in the festive spirit and the children at our residential site are already making Christmas decorations. We have some great ways for you to get involved too.
👚 Pre-order your S.A.L.V.E. Christmas jumper and look super-snazzy all festive-season long, with designs for both children and adults available.
💌 Get organised and buy your charity Christmas cards through us to spread festive cheer this year.
🎁 Send an ethical gift this Christmas with our More than a Gift initiative which enables you to provide a product or service for a street connected child or their family in Uganda.
🎄Help raise money for S.A.L.V.E. with our Festive Fundraising ideas and help children on the street of Jinja have a better Christmas too.
We are also hosting a Christmas quiz on Wednesday 7th December at 7:30pm, via Zoom. We would love for you to join us! Check out our website for further information.
S.A.LV.E. news round up
👀 Check out our latest blog written by a young man who we helped to leave the streets and who is now a peer volunteer for other street connected children. He is inspirational!
👀 Volunteer and join our team in either the UK or Uganda! In the UK we are recruiting for a financial whizz to join our UK board as treasurer. In Uganda we are looking for a kind hearted volunteer to join our Drug Rehab team.
 This month we shared our updated impact statistics and, blowing our own trumpet a little, we are really proud of all we have achieved. None of this would be possible without you, our global family, so please take time to read about the difference you are making.
♻️ In October we were also shortlisted for the Permaculture Magazine Award 2022. Sustainability is very important to us at S.A.L.V.E. and you can learn more about our permaculture initiatives on our website.
📚 Read this story of an inspirational woman who, after having 14 children of her own, became the carer for 7 of her grandchildren but with no education herself, struggled to make ends meet. Thanks to our Business Empowerment Programme and her determination, she is now running a tailoring business, sends all her grandchildren to school and is a role model in her community.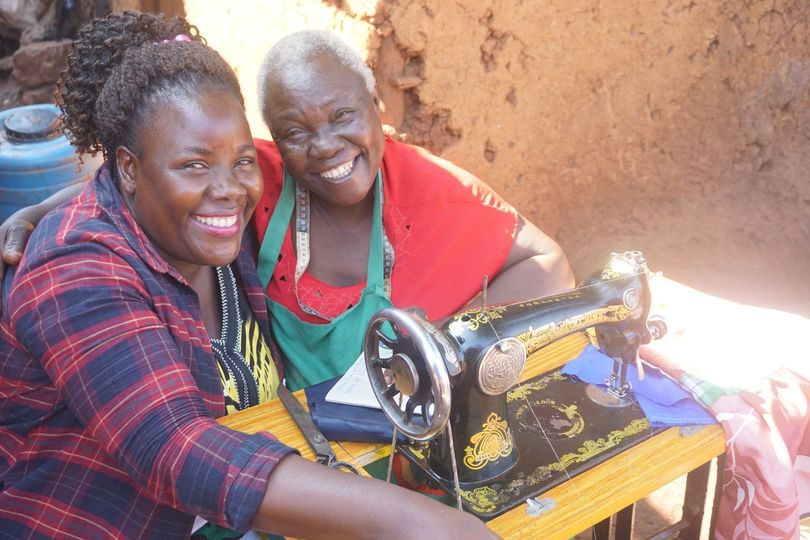 See S.A.L.V.E. for yourselves
If you sadly can't make our Mount Elgon hike at the end of January 2023, then this video will still open your eyes to the world of S.A.L.V.E. We are excited to share this short film with you which showcases our Halfway Homes and Drug Rehabilitation Centre on our 5 acre residential site.
These facilities allow the children to have a safe place to stay away from the dangers of the street, while we work towards resettling them home to a loving family.
A huge thank you to our fantastic supporters (who run a film production agency) for their time, hard work and enthusiasm in making a series of short films for us earlier this year when they visited us in Uganda.
Would you like to be next month's winner? For just £3 a month you can be in with a chance of winning £100 and provide a street connected child with lunch for a week! Find out more here.
Webale nyo
Thank you for your continued solidarity and support. We are so grateful to be part of such a caring community of people, working together to give opportunities to children living on the streets of Uganda.
If you have any questions or feedback, please do not hesitate to get in touch. We always love to hear from you 🙂
Lots of love, Ugandan dust and sunshine,
Nicola and the whole S.A.L.V.E. team
Each month the children in Uganda want to hear from your for our interactive debate. In line with COP27 being held in Africa this month, our Inequality Question focuses on climate change. What does that mean to you? Share your views here. The children love hearing thoughts from friends around the globe on their debate question!