My name is Esther. I'm a psychiatric nurse at the Drug Rehabilitation Centre run by S.A.L.V.E. International. I am sharing a story about a boy who overcame his fears. His name is Abasi* – he is 13 years old and is from a region in Eastern Uganda.
Abasi was one of 5 children within a separated family. Due to domestic violence and his father's alcoholism, his parents separated, and his mother relocated to another town.
His mother decided to leave all the children with their father because she could not handle supporting them financially. Immediately, their father married another woman, who would frequently abuse them. According to Abasi, their stepmother would not give them any food to eat. Even when their father would buy them clothes, she would take them away and give them to her own children.
The chairman in their village was concerned about the children's wellbeing, and he therefore decided to call their mother to come and take her children. However, the husband had threatened to kill her if she came around his home. They therefore arranged for the children to be taken by their neighbour in the village, who then took the children to their mother. However, their mother's financial status was not good. They had no future of going to school. Indeed, even getting enough food to eat was hard sometimes.  She could work for people but, because she was not educated, her pay was always very poor. In this situation, the children were forced to also start selling tomatoes to be able to earn some extra income to be able to afford food and clothes.
Illness Strikes
One day they all fell sick at home, but they had no money to go to the hospital or to buy medicine. They tried going to the government hospital but they could not get an appointment with the doctors. They were only given paracetamol.  Abasi was forced to go to one of his mother's friends and borrowed some money from her, an amount worth 50,000 shillings (£10.70). He needed the money to take his mother to the hospital since her situation was getting worse every day. He promised to pay the money back to his mother's friend after two weeks. However, this was not possible since they were not working and they had used all their resources.
The lady came home and took Abasi to the police. When they reached the police station, she changed her statement and told the policemen that he had in fact stolen 100,000 (£21.40) shillings. She demanded that Abasi either give her the money or he would be arrested. Of course, he didn't have that much money, and neither did his mother and siblings. As a result, they put him in a jail cell.
Homeless and helpless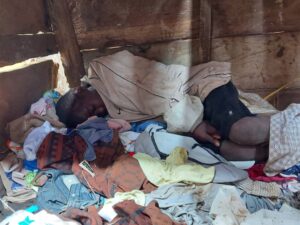 In the morning, one of the policemen told him to clean around the police station, and he managed to escape from the police and came straight to the streets of Jinja. At that time, he barely knew anything about living on the street, which was very tough. He went two days without eating because he didn't have money to buy food and he was scared to eat food which had been thrown away. Eventually, it was his only option.
After a month on the street, he made some friends who taught him how to survive on the street. They showed him how to sell scrap metal to get money to buy food. They also taught him how to use drugs to cope with stress and to not feel cold in the night.
One morning, he was feeling sick. His friends took him to the S.A.L.V.E. International Drop in Centre where a member of staff took him to the hospital to get treatment. However, he was not in a good state at all, and the staff member decided to refer him to the S.A.L.V.E. Drug Rehabilitation Centre for further treatment and support.
Finding his way home
While at the Drug Rehabilitation Centre, he went through detox. We wanted to know about his parents to offer more support. However, he was scared to disclose any information about his home since he had escaped from the police. Fortunately, after hearing the stories of his fellow children during group counseling sessions, he started opening up.
The staff in the Drug Rehabilitation Centre assured him that everything would be fine, and so he decided to take me to his family's home. When one of his neighbors saw us, he ran and told Abasi's mother, who then came running. Her eyes were full of tears, and she was screaming with joy. They hugged tightly for several minutes; "I will never forget this special moment in my life" said Abasi.
Slowly we walked to his home, but people had started following us. They had thought Abasi had died. I suggested we could go to the police station to clear the pending case regarding Abasi. Thankfully, everything was sorted – the friend of Abasi's mother told the truth and she also told him not to pay the money she had been demanding of him.
After the home visit, I went back with Abasi to the Drug Rehabilitation Centre to complete his program. While he was at the Centre, he was counseled about the dangers of drugs, living on the streets and also how to make good life choices and decisions. When he had completed the program, he was resettled back to his mother's home. He felt so happy to go back home after one year of being on the street and for having left behind the drugs and having his police case cleared.
"Thank you, S.A.L.V.E. International, for your work towards supporting street connected children and giving us hope again."
*names are changed in line with our Child Protection Policy